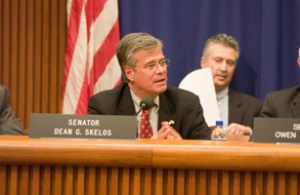 Now that the Republicans have failed in their prolonged attempt to seize control of the State Senate, will heads roll?
It would seem that the answer is no. Republican Leader Dean Skelos looked slightly dejected Thursday night talking to reporters about the re-defection of Senator Pedro Espada Jr., and the re-relegation of Republicans to the minority. But the deal with Espada (and initially, Senator Hiram Monserrate) was described by most Republicans I talked to as less a bungle than a gamble, albeit one that didn't pay off.
"I think the conference stands behind Dean Skelos," Senator Joe Griffo told me. "There were a lot of discussions that we had about how this playing out. Dean was very candid with the conference, and tried to engage us numerously. I think he handled himself with integrity and character."
Several sources inside the conference said that Skelos was reticent about taking the deal, whose principal architects were  his deputy Tom Libous of Binghamton and Senator George Maziarz of Niagara.
"The people who look bad in this are Maziarz and Libous," one Republican source said. "Skelos, I won't say he was dragged into this, but he had reservations. If anything, it strengthened his stock within the conference."
A Republican senator added, "from what I've seen in that room, I think Dean stays as the leader and we move on, and what we did has some positive effects."
"No, I'm not disappointed," Maziarz told the Buffalo News. "One of the things this has shown is, upstate is going to be a player in this thing now. We're not just going to roll over."
Libous has long yearned to be the top Republican, and I was hearing from sources before the coup fell apart that he was plotting a move against Skelos. It's doubtful that will come to pass now. I asked Griffo whether Maziarz or Libous would be diminished in stature.
"I think right now everybody is where they are and will continue to be," he said.