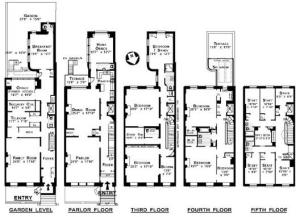 Michael Hirtenstein, a connoisseur of glitzy and enormous real estate, has one less mega-property to worry about. According to the listing for 23 Gramercy Park South, the former telecom mogul is in contract to sell the 20-room, $20 million townhouse.
Mr. Hirtenstein, who said earlier this year that he owns three places in Manhattan, four in the Hamptons and five elsewhere, paid $14.5 million for the 27-foot-wide house in February 2007, the month he sold off a $27 million Time Warner Center penthouse. But in July the townhouse was back on the market for $22 million; a month later, the Post, quoting an anonymous witness, said that Anne Hathaway was "smitten" with the mansion. There was no sale and the price came down to $20 million.
By April, he was talking about assembling a $35 million, 17,000-square-foot, five-bedroom apartment at the new One York condo, where he'd have a tree garden, suede-covered walls and a pool with an underwater video screen. "I've been approached to sell it already, at a profit," he said. "I just hope some Russian multibillionaire doesn't make me a huge offer."
But that didn't happen. Newsweek reported in November that he'd reneged on the One York deal, forfeiting a massive deposit: "I could walk downstairs now and buy a Ferrari," he explained from a Las Vegas suite. "But all of my friends are hurting. I don't feel like buying random toys."
Broker Lauren Muss, who is handling the 20-room townhouse, said, "I am unable to comment. So sorry." Mr. Hirtenstein did not return a message.
But the Gramercy house's tag never sank too far. Its price was raised to $25 million in September, after it was decorated by 11 designers who were each given a room to do in the theme of a Showtime show. But even though the green-and-gold Weeds room was given hemp flooring, and the Dexter dining room was given furniture wrapped in white vinyl, the $25 million tag fell back to $22 million in November.
That price was cut to $20 million in February, exactly two years after he bought it.
Editor's Note: An earlier version of this story carried a New York Post report that Mr. Hirtenstein owned an apartment at the Plaza. He does not.
mabelson@observer.com