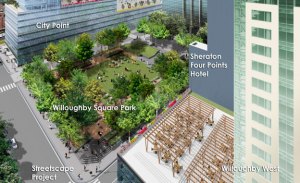 In a marked departure from original plans, City Point, the glass-clad, multi-use complex that was to be downtown Brooklyn's own Time Warner Center, will now be built in two phases, according to sources familiar with the developer's intentions.
The developer plans to build the first phase at the east end of Fulton Mall, on the site of the old Albee Square Mall, as quickly as possible. It will likely include affordable housing and some retail of the big-box variety to accommodate a tenant like Best Buy. The second phase, to be built at some indeterminate future point, will include market-rate housing, office space and additional retail space.
The developers, a consortium of Acadia Realty Trust, MacFarlane Partners, Rose Associates, P/A Associates and Washington Square Partners, declined to comment through a spokeswoman.
The altered plans, when finalized, will likely have to be approved by the city, since the developers hold a long-term lease on city-owned property.
The original plans called for a 1.5 million–square–foot development to be completed by 2010, with about 520,000 square feet of retail space; 360,000 square feet of Class A office space; and 900,000 square feet of luxury and low-income apartments. The credit freeze, however, has made financing for such projects nearly impossible to find.
drubinstein@observer.com