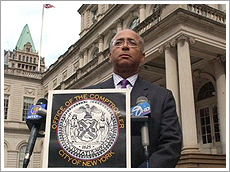 The Working Families Party mayor-endorsement vote last night went to Bill Thompson. According to an interested reader, here's the vote total:
75-Thompson
34-No endorsement
9- Abstain
1- No show
To get the endorsement, Thompson needed to have two-thirds of the yes/no votes cast. That means out of the 109 eligible votes last night, Thompson needed to get 72. So it was close.
Despite that, this is the first endorsement that both Bloomberg and Thompson have sought that went to Thompson.
The vote totals above are a weighted vote of the W.F.P.'s coordinating committee, which is made up some of the city's most powerful unions. The choices of the constituent unions are significant as indicators of what each of those entities will end updoing; we may see several instances this year of W.F.P.-linked unions sitting out the race or endorsing Bloomberg, even as the party works for Thompson.
One notable detail is that the teachers union abstained. This is the first mayoral election for the union since Michael Mulgrew became president.
Here's a list of how some of the other unions represented on the coordinating committee voted. (The 'yes' votes are for Thompson. The 'no' votes are for not endorsing.)
ACORN-yes
ASCME-yes
Hotel/Motels-no
PEF-yes
RWDSU-yes
1199-yes
32BJ-no
TWU-yes
Plumbers-no
UFCW-no
UFT-abstain
UNITE HERE-no