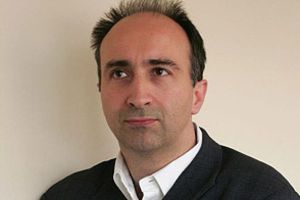 The literary critic James Wood wounded his hand in Bryant Park today while playing the tambourine.
"I picked [it] up in a rather awkward way and was playing a song with it, and it began to rub away," Mr. Wood said, showing off newly applied band-aids on his fingers. "It just took the skin off."
The injury was sustained during the first of two lunchtime sets that Mr. Wood, a regular critic for The New Yorker and a professor at Harvard, performed at the park with folk rock duo Fayaway to celebrate the publication of Heavy Rotation, an anthology of essays on music edited by Peter Terzian. Fayway, a group that plays live twice a year, normally consists of novelist John Jeremiah Sullivan on vocals and guitar and Nick Laudadio on the drums. Mr. Wood was billed as their guest percussionist, and most of the work he did onstage was on a kit of bongos.
Mr. Wood, whose finger-drumming video took YouTube by storm last fall, is by no means a performer. In khaki pants and a navy button-down shirt with the sleeves rolled up, he slapped his bongos vigorously and bobbed his head not unlike a turkey does. While his attempts at grooving were not exactly rock-star quality, he brought a seriousness to the task that made his enthusiasm obvious. Watching him flap around to the music, tucking his tongue into the corner of his mouth Michael Jordan–style, one got the sense that this was a man who loves to dance, even if it isn't totally his thing.
As the statue of William Earl Dodge looked down at the crowd that had gathered for the performance, Fayaway went into a rendition of The Who's "Substitute," and suddenly Mr. Wood came alive. He is on the record as being a fan of the band: In Heavy Rotation he contributed a piece on Quadrophenia and the impact it had on his life. Was he channeling Keith Moon up there?
"It's hard to replicate that on bongos. You need a proper kit," said Mr. Wood. "I tried to do a little of that as much as I could."
Mr. Wood has long been fascinated with drumming. "I taught myself how to play the drums, with a drum kit, in my early teens," he said. That youthful energy seems to have survived his decision to pursue a career in letters instead of music.
"Unlike someone who's denied a chance to be on a stage and has to sing in a shower, I just make use of what's around me," Mr. Wood said. "So I use tables, my body, that kind of thing. … I'm always annoying people by continually drumming on surfaces."
As for how the video of him demonstrating his hidden talent—apparently in his kitchen, while his children ran around yapping happily—ended up online in the first place, it's perhaps not what one would expect. There was no hidden paparazzi, stolen security footage or night-vision neon. Rather, it went online as the result of a dare. "A friend of mine said, 'I dare you to put it up on YouTube,'" Mr. Wood explained. "So she did."
Mr. Wood's friends and colleagues couldn't have been happier for him after the performance.
"I think it's icing on the cake," said Lorin Stein, who edited Mr. Wood's recent book How Fiction Works for Farrar, Straus and Giroux. "I think it's wonderful!"
Mr. Sullivan, the Fayaway frontman, was thrilled to have the finger-drummer in the band for the day.
"He just slid right into it," Mr. Sullivan said. "Obviously, you know from the YouTube thing he has unbelievable rhythm, and he knows how to quiet it down when he's not sure what's going on in a song and then bump it up when he wants to be dramatic. … For me, it was partly about watching James Wood and seeing him play bongos. So I was sort of in the audience for that."
Fayaway had not played with Mr. Wood prior to the show.
"I didn't rehearse," Mr. Wood admitted. "John and Nick are a unit together, and I just came down on the train this morning and played along."
For Mr. Laudadio, Fayaway's full-time drummer, it was a pleasure playing with the YouTube star. "I was honored," he said. "Anytime he wants to show up at our twice-yearly shows, I would love to have him. It was really fun." Mr. Laudadio concluded, "He seems like a very sweet man and an adept bongo player."