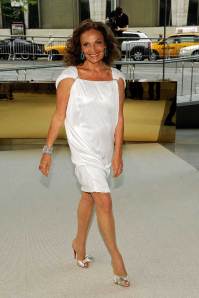 Andre Leon Talley's black Town Car was one of the first to pull up to the Fashion Institute of Technology Tuesday morning, July 28, for the 9 a.m. Town Hall meeting of the Council of Fashion Designers of America. The Vogue editor at large got out in a light gray suit with a small Louis Vuitton man-purse and parked himself at a table by the entrance. He applied lotion to his hands and sent someone out for a cappuccino, skim, with Splenda, at the Starbucks across the street. Once it was delivered, Mr. Talley went into the auditorium and took his seat.
The CFDA's president, Diane von Furstenberg, who wore a black-and-white-striped dress, walked up to the podium and said that she woke up at 3 a.m. that morning to make notes for the assembly. Then she explained why they were all there: to discuss whether Fashion Week, once a trade event that has become a mess of hype, has essentially become irrelevant.
The Web changed everything, Ms. von Furstenberg stated. Consumers want looks straight off the runway immediately; designers dress celebrities in clothes not yet available to the public; clothes arrive in stores too soon only to be discounted by the time they are actually in season; there is too much supply and not enough demand; everyone loses money; and the average consumer, well, she's just so confused!
The city wants to help, but we really all have to vote for Michael Bloomberg, she added. And while not much can be changed by this September, perhaps everyone can find a solution and get organized by September 2010.
"Maybe there can be a Fashion Week that says trade and another one that says shop?" she suggested, before opening the discussion to the floor. CFDA executive direct Steven Kolb asked everyone to please be concise.
"There seems to be a disconnect," said Proenza Schouler designer Jack McCollough. "For us, the shows have become a press thing. It's on blogs; magazines pull straight from the runways; and by the time it's in stores, it feels sort of old.
"Yes, we live in a digital world," Ms. von Furstenberg said. "We have to form committees. We're all friends, we're not enemies. This is America, we're resilient."
"We are open and we want to support the industry," said Roopal Patel, the fashion director of Bergdorf Goodman, "but the shows and the images are important and they really do help things sell."
Designer Donna Karan said: "The consumer is completely confused and she's saying, 'I've had enough.' We're spending all this money on shows and by the time the consumer gets to it, it's on sale!"
"They're buying coats right now!" Ms. von Furstenberg said.
Ms. Karan: "But they're buying them on sale!"
DVF: "No, no!"
Ms. Karan: "O.K., but they are come September or October."
After plugging Fashion's Night Out (her idea), an evening when stores are planning to stay open late and throw parties to drive shopping, Vogue editor Anna Wintour said, "There's a deep psychological block with the American consumer of just not wanting to shop, and we want them to shop again."
Her deputy, Sally Singer, suggested: "There's been an overproduction which has led to the 40 and 60 and 80 percent off. If we produce less, the consumer will have more confidence in the product."
Then designer Betsey Johnson, that lovable kook, stood up. "I would love to show at Madison Square Garden!" she said. "I wish Fashion Week for the public can be like Christmas, and maybe we'll put up green and pink lights everywhere."
She was greeted with silence.
Ms. Karan steered the discussion back to a palette of sensible neutrals. "We are in a crisis," she said. "We spend so much money on shows, but what is it getting us?"
"People want shows," Ms. von Furstenberg said. "The photos travel. So … I don't know."
"Could someone lead a committee that would make ground rules for retailers of when the discounting starts, and then all the retailers can agree to it?" Ms. Wintour suggested.
"That's illegal!" Ms. von Furstenberg said with some horror.
"Is that something we can change?" Ms. Wintour said. "We have friends in the White House now!"
Ms. von Furstenberg: "Anything is possible."
No obvious conclusion was reached by meeting's end, but the CFDA prez struck a hopeful note. "I beg you to help me see what I can do and I wil l do what I can," she said. "Before I resign!