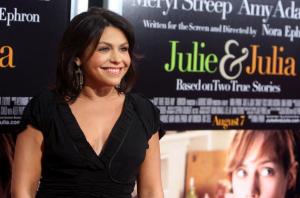 The red-carpet procession at the premiere of Julie & Julia, which stars Meryl Streep as Julia Child and Amy Adams as the blogger Julie Powell, was a big celebrity stew. It included musician Yoko Ono, restaurateur Drew Nieporent, food personality Rachel Ray and fashion designer Rachel Roy, as well as Katie Lee Joel, Steve Buscemi and Andrew Cuomo on the arm of Sandra Lee. Actor Sam Rockwell quickly followed Stanley Tucci, who was swept inside.
Ms. Streep looked years younger than her character in a chic blazer over a white blouse, with her hair tied back in a simple ponytail. Ms. Adams was glam in a floor-length gray and white halter dress.
Director Nora Ephron said, "Unlike most romantic comedies, which are about people falling in love, this is about people who are already in love." When asked who she thought should take over Frank Bruni's spot as food critic at The Times, Ms. Ephron replied, "Maybe Meryl should do it!"
"If anyone can look like they know how to cook, it's Meryl Streep," said chef Anthony Bourdain.
"I am so excited about Meryl Streep, I can't even think!" said guidebook mogul Tim Zagat. "I was once working for a company that owned Paramount, and Meryl was in a movie, and they said, 'You've got to come down.' I didn't know she was there, and I sat down and I realized I was sitting next to her. I couldn't remember anything after."
Patrick Martin, executive chef of the Cordon Bleu, mused about how Ms. Child would fare in today's competitive kitchens: "At the Cordon Bleu, Julia learned a lot of things in terms of techniques—if she was here today, she would have the same talent! Things change, food changes, but not Julia!"
The Transom also caught up with Top Chef Masters host Kelli Choi, who said the celebrity she'd most like to see in a kitchen is "President Obama! If he was cooking up a burger or something—I think he's really into food."
"You're on the wrong side!" someone shouted at Martha Stewart, who stood behind the press to get a picture of her friends strolling down the carpet. "I know! I'm blogging!" she shouted back, snapping pictures of Atlantic Monthly food writer Corby Kummer.
Actor and comic genius Bob Balaban, meanwhile, discussed the perils of eating on film. "In a movie, they show you taking one bite, but you ended up taking 150 bites!" he said. "You have rehearsal, there are 15 angles, you have to eat a lot!" Mr. Balaban, who has a few dietary restrictions ("I don't eat meat, I don't eat dessert, particularly—I don't eat butter, cream or cheese. It's impossible to feed me!"), said cooking at home can be difficult.

Luckily, he added, "My wife is a really, really good cook!"