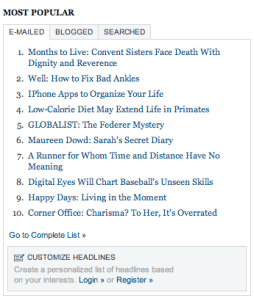 Ever notice that the NYTimes.com most-emailed list is slanted toward an older demographic? Maybe because only folks over a certain age—like our Aunt Mabel—still use the email tool. Here's a quick, annotated guide to what grandma and grandpa thought you might be interested in from NYTimes.com …
1. Happy Friday! Jane Gross–sister of rich-person chronicler, Michael Gross–comes storming in with the no. 1 story! It's on old nuns getting sick.
2. Just look at the headline.
3. Just look at the headline.
4. Will dieting monkeys lead us to the fountain of youth?
5. Roger Cohen tells us why Roger Federer is just so classy. It's a weird story. People like Rick Reilly wrote this story years ago, and it was way more interesting then. Also, Cohen's point isn't really true anymore. While he marveled at how Federer plays tennis with a belt (did you just notice that, Roger?) and how he never sweats (again, did you just notice that?), we feel like Sports Illustrated's Jon Wertheim captured the public perception better when he wrote this week: "Whose bright idea was it to transform that thoroughly likable guy into King Bling? Did the Nike marketing data really indicate that kids would warm to all those elitist touches? Is the gold man purse making
a surprise comeback? This is the personification of 'gilding the lilly.' It does not say 'elegance' any more than a fleur-de-lis back tattoo says 'French."' Here's hoping it's a phase and Federer takes back some ownership of his portrayal."
6. Dowd holds on! Did you notice that the columnists really slipped this week?
7. A runner after brain surgery. Sports!
8. We love that Mabel is into sports today! And this is an incredible story on how we can actually measure baseball players even more scientifically than we ever thought before.
9. Mabel loves Happy Days (the blog and the show)!
10. The lady who starts Teach for America gives Advice.
Final Tally:
Sports: 3
Health: 3
Columnists: 2
Technology: 1
Education: 1
Religion: 1
Travel: 0
Science: 1
(Note: We credited the dying nuns story as religion + health. We credited the Roger Cohen column sports + columnist. We credited Happy Days as health).
Overall Tally:
Columnists: 47
Health: 40
Op-Ed contributors: 12
Food: 13
Travel: 11
Money: 9
Technology: 9