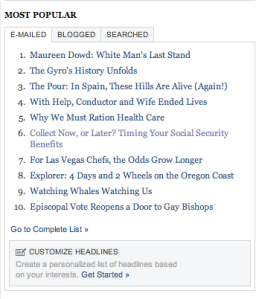 Ever notice that the NYTimes.com most-emailed list is slanted toward an older demographic? Maybe because only folks over a certain age—like our Aunt Mabel—still use the email tool. Here's a quick, annotated guide to what grandma and grandpa thought you might be interested in from NYTimes.com …
Note: Mabel took a vacation day yesterday! So we'll pick up the tally with today's list.
1. Dowd on Sotomayor, against white men.
2. History of the Gyro! Mabel's gonna hit Rafiqi's today!
3. And then she'll pick up a bottle of El Pecado to wash it down!
4. Oh, Mabel, don't even think about it. This story is about assisted suicide; a British orchestra conductor flew to Switzerland with his sick wife and downed a lethal cocktail.
5. Magazine preview! Mabel's been a Peter Singer fan ever since we loaned her our copy of Practical Ethics in college. So it's no surprise she's a fan of this article, in which Singer applies his methods to health care, another of Mabel's favorite topics.
6. The social security piece from six days ago holds on! It's the power of Mabel!
7. Ailing Vegas restaurants … might be a good time for Mabel to take a trip. Good discounts!
8. Oregon, again. Mabel, just move! Though unlike this writer, she probably won't be biking her way up the coast.
9. Whale piece from the magazine sticks around.
10. The Episcopal Church likes gays!
Final Tally:
Religion: 1
Health: 2
Politics: 1
Money: 1
Columnists: 1
Food: 3
Travel: 3
Science: 1
We credited Vegas and wine stories as both food and travel.
Overall Tally:
Columnists: 54
Health: 42
Op-Ed contributors: 12
Food: 16
Travel: 16
Money: 13
Technology: 12