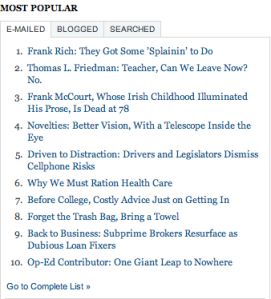 Ever notice that the NYTimes.com most-emailed list is slanted toward an older demographic? Maybe because only folks over a certain age—like our Aunt Mabel—still use the email tool. Here's a quick, annotated guide to what grandma and grandpa thought you might be interested in from NYTimes.com …
1. Frank Rich returns to where he normally expects to be! We saw this posted an awful lot on Facebook over the weekend, so we're not surprised to see Aunt Mabel warmly embracing Mr. Rich's screed against the Sotomayor hearings.
2. Friedman in Afghanistan schools!
3. Frank McCourt obit. Mabel did love Angela's Ashes.
4. A Mabel favorite: How to see better.
5. Legislators fail to act on the perils of driving-and-texting.
6. Another Mabel favorite: Peter Singer on anything, but this time it's Health Care.
7. When we saw this story in Sunday's paper, we thought it would certainly be no. 1. It hasn't held up well, though, to our surprise. It's a really great story that's giving us confidence that Jacques Steinberg might be able to freshen up his beat at the Times.
8. Certainly the most popular story in the Times today among the younger-than-Mabel set, but maybe they all got tipped off because she emailed this morning!
9. Investigative journalism! Go Mabel go.
10. Tom Wolfe and NASA.
Final Tally:
Columnists: 2
Health: 2
Magazine: 1
Education: 1
Obits: 1
Technology: 1
Investigative Journalism: 1
Op-Ed contributor: 1
Arts: 1
(Note: Peter Singer's piece is given credit for magazine + health)
Overall Tally:
Columnists: 60
Health: 47
Food: 16
Travel: 16
Money: 14
Technology: 13
Op-Ed contributors: 12