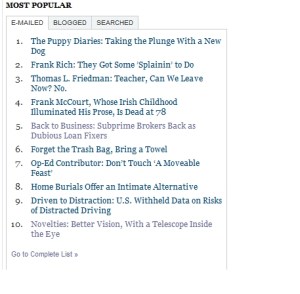 Ever notice that the NYTimes.com most-emailed list is slanted toward an older demographic? Maybe because only folks over a certain age—like our Aunt Mabel—still use the email tool. Here's a quick, annotated guide to what grandma and grandpa thought you might be interested in from NYTimes.com …
1. Jill Abramson goes to the dogs! It's the oldest, cheapest, and evidently, at least according to Auntie, the most successful journalistic trick! It's more than a little frustrating that Mabel would love this story and more than a little frustrating that the Times would give it such prominent placement on its home page yesterday. We suppose it's working, but to what end?
2. Only Frank Rich's boss could knock him out of the top spot.
3. Friedman holds surprisingly steady.
4. Mabel loves Angela's Ashes. Biggest run for an Obit, MJ included.
5. OK, well this more than makes up for Jill Abramson's puppy; Mabel reading her i-journalism piece.
6. Hmmm. The dumpster pool party with a two day run? So far slots 2-6 look a bit too much like yesterday's.
7. Scribner is sending out a new edition of A Moveable Feast, some four decades after it was published. The new editing was seriously rewritten by Hemingway's grandson, who didn't like what the old man said about his mom. It's the last chapter that's changing, but we hope the glorious last sentence of that book doesn't : "This is how Paris was in the early days when we were very poor and very happy."
8. Uh oh. Expect a big BOUNCE for this tomorrow. Burying your loved one. At home.
9. Times campaign! Day 2 follow up! More driving + cellphones = bad.
10. Implant a device and see better.
Final Tally:
Columnists: 2
Managing Editors Writing about Pets: 1
Health: 1
Obits: 1
Op-Ed contributor: 1
Arts: 1
Technology: 1
Investigative Journalism: 1
National Features: 1
Overall Tally:
Columnists: 62
Health: 49
Food: 16
Travel: 16
Money: 14
Technology: 14
Op-Ed contributors: 13