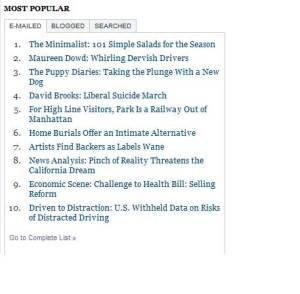 Ever notice that the NYTimes.com most-emailed list is slanted toward an older demographic? Maybe because only folks over a certain age—like our Aunt Mabel—still use the email tool. Here's a quick, annotated guide to what Grandma and Grandpa thought you might be interested in from NYTimes.com …
1. Bittman strikes! Tara Parker-Pope has been cleaning up around here lately, and it's about time Bittman finally got to his summer salad piece. A little late, though? Evergreen, we suppose.
2. Since Mark Sanford and Sarah Palin left our lives a few weeks ago, it's been back to business as usual for Maureen. But she finds the magic again, this time on a little unfamiliar turf: technology! A guaranteed hit with Auntie.
3. Jill's puppy holds strong on Day 2.
4. Brooksies! Speaking of, where is Ross Douthat? He hasn't been featured at all on the top 10.
5. Chelsea locals are your tour guides at the High Line. We assume Auntie is sending this because she knows deep down we've been too lazy to go to the High Line even though—yes, yes, we know—it's supposed to be so beautiful and so great and gorgeous. Maybe in the winter?
6. We thought the home burials would have better second day bounce, but it stays in the top 10.
7. Music peope go to find $ from online!
8. News analysis on budget problems in California! Auntie still reading the news.
9. Health care, of course.
10. The new Times campaign! Using that cell phone on the road is bad.
Final Tally:
Columnists: 2
Technology: 2
National Features: 2
Managing Editors Writing About Pets: 1
Business: 1
Food: 1
Health: 1
New York: 1
Overall Tally:
Columnists: 64
Health: 50
Food: 17
Travel: 16
Technology: 16
Money: 14
Op-Ed Contributors: 13
Managing Editors Writing About Pets: 2