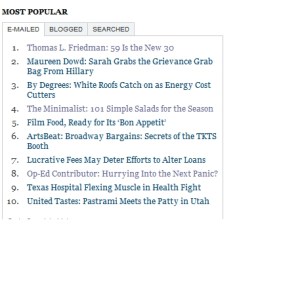 Ever notice that the NYTimes.com most-emailed list is slanted toward an older demographic? Maybe because only folks over a certain age—like our Aunt Mabel—still use the email tool. Here's a quick, annotated guide to what Grandma and Grandpa thought you might be interested in from NYTimes.com …
1. Until this Friedman-Tom Watson love ode drops from No. 1, we're going to pick out the sentences that really made us furious. Today's edition: "Watson likes to talk about foreign affairs more than golf. So to let him know just how many people wanted him to win, I emailed him before the final round: 'Even the Taliban are rooting for you.'"
2. In this column, Maureen Dowd told us that Sarah Palin is "all cage, no bird." The folk(s) at the NYTPicker tells us we've seen this before! For one, it happened last year, when she was quoting Hillary Clinton in an imaginary debate against Sarah Palin. "CLINTON: I do give you and John credit, Sarah, for following my blueprint to reveal Obama as all cage, no bird." And then again in 1997 when—what else?—quoting J.F.K. in an imaginary essay: "And now everyone is gathering, like urchins at a hanging, to wonder if I'm all cage, no bird." Auntie is a sucker for folksy metaphors, though …
3. Cool roofs! Make 'em white!
4. Nine days strong, and still in the top four. The greatest-performing article in Mabel in history. And it all makes us a little more sick of food.
5. And yet more dining!
6. Secrets!
7. A1 story on those mortgage companies.
8. Who takes naps? It's for people who are "poorer, black, men older than 50, men and women over 80 and among people who are not happy."
9. USA Today had its own version of the super-stock-computer story today.
10. Investigative! And A1.
Today's Tally:
Columnists: 2
Food: 2
National Features: 1
Sleep: 1
Op-Ed Contributors: 1
Business: 1
Arts: 1
Science: 1
Money: 1
(Note: We counted the Broadway savings story as Arts and Money.)
Overall Tally:
Columnists: 76
Health: 55
Food: 25
Technology: 19
Op-Ed Contributors: 19
Travel: 18
Money: 16