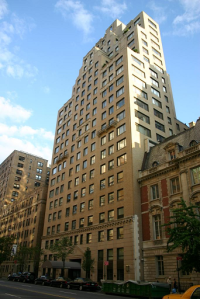 Even though Michael Jaharis moved up 276 spots on this year's list of the world's billionaires, Forbes complained in March that the 81-year-old's $1.9 billion fortune had merely stayed flat. Maybe Mr. Jaharis took the magazine's mercilessness to heart, because city records show that the pharmaceuticals mogul just spent a mere $6.7 million on an apartment and maid's room at 1049 Fifth Avenue, a relative pittance for the block.
According to a $7.75 million listing with Corcoran's Joanne Douglas, who said she could not comment, the nine-room, 3,335-square-foot apartment has a limestone-floored 32-foot-long entrance gallery, a hefty living/dining room (its style is called "both uptown classic and downtown loft"), a mahogany-paneled library, and a master bedroom suite with a separate sitting area and dressing area.

On the downside, 1049 Fifth isn't actually on Fifth Avenue—it's on East 86th Street, just next to Ronald Lauder's Neue Galerie.
mabelson@observer.com