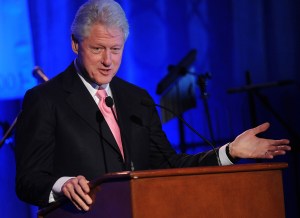 At a fund-raiser in the East Side townhouse of her chief promoter and donor, Sally Minard, on June 30, Representative Carolyn Maloney proudly announced to the crowd that former president Bill Clinton would be headlining a fund-raiser for her in July.
Given that Maloney announced her intention to eventually announce a primary challenge against Senator Kristen Gillibrand the very next morning, news reports have latched onto Clinton's attendance at the July 20 fund-raiser at the St. Regis as something meaningful. This morning, the National Republican Senatorial Committee sent around a Hill story that leads with news of Clinton's attendance at the event, even though news of it is three days old.
The Maloney camp acknowledged that the event was scheduled well before her decision to challenge Gillibrand, but also suggested that it would serve as a meaningul boon to the campaign.
"Certainly it's a good thing to have the president do an event for her," said Maloney's chief strategist (and, apparently, lone staffer at this point), Joe Trippi. "He's a major attraction. It is meaningful to the campaign and to her."
But an aide to the former president said it would be a mistake to read any special significance into Clinton's attendance at the fund-raiser, which is part of a series of events he is participating in to thank supporters of Hillary Clinton for their hard work during the 2008 presidential campaign. 
The aide said, "The former president believes that Senator Gillibrand is doing a good job as senator and this type of thank-you event, and any other he may do, should not be read as an endorsement or un-endorsement."