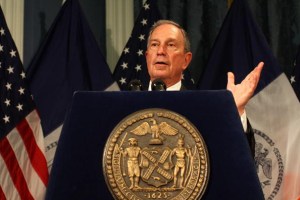 Michael Bloomberg's war of words with the State Senate just got bloodier.
At a press conference in Sunset Park about development plans there, Bloomberg was asked about one of his earlier comments about state senators who are delaying the renewal of mayoral control; in that comment, Bloomberg evoked Neville Chamberlain in explaining why further attempts at negotiation with Democratic opponents of mayoral control would be counterproductive. (At a press conference today in Manhattan, some of the senators in question said the remark was inappropriate since, in the analogy, the Democratic conference in the State Senate would be, well, Nazi Germany.)
Asked today whether he meant to compare the senators to the Nazis, the mayor said, "I certainly did. What part of that did they not understand? This is ridiculous."
UPDATE: The exact question, from New York 1 reporter Rita Nissan, was, "Your comments about Chamberlain on Friday–they're upset by that and they feel they are owed an apology. They feel that you compared them to Nazis."
UPDATE: After the event this afternoon, Bloomberg spokesman Stu Loeser emailed the following explanation:
I am writing because there's some confusion on a few people's part what the Mayor said Friday on the radio show about Neville Chamberlain.

It wasn't an analogy at all – the Mayor was talking about endless negotiations in general. The former Prime Minister's name is now synonymous in the American lexicon with appeasement and endless negotiations. Since it wasn't an analogy, the Mayor wasn't comparing anyone to anyone else.

Here's what the Mayor said on Friday's radio show:

"And the Teachers Union, in all fairness, Randi's been helpful – I mean, we could be doing so many more things and instead, we're spending our time talking just- and every time- there's a point at which- if you remember Neville Chamberlain. No matter how many times you said yes, that's the starting point for the next round. There's always more, more, more. I think that just the time for that is over."

On the pier today, the Mayor couldn't hear Rita's question clearly, and neither could Andrew Brent, who was standing right by her.