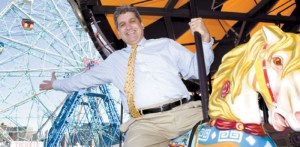 The Bloomberg administration is nearing the finish line in its attempt to push a planned revitalization of Coney Island through the City Council, as a key subcommittee and local Councilman Domenic Recchia voted in favor of the plan Tuesday.
Still, there are a few loose ends that could threaten its passage before the full Council next Wednesday, including deals with major landowner Joe Sitt and building employees' union 32BJ, which wants wage guarantees.
This afternoon, the Council's Land Use Committee voted 13-2 in favor of the rezoning plan, which would turn vacant lots now zoned for amusements into residential; and would allow some hotels, retail and indoor amusements in the central amusement area of the historic, if grungy, entertainment hub.
The vote, which largely leaves intact the essence of the Bloomberg administration's plan—some changes were made, including the removal of Wonder Wheel Park from a planned swath of parkland—came after last-minute negotiations with unions and the Council. A scheduled vote for Monday was delayed, even as all the needed Council members showed up to vote, as did a stream of city officials including Amanda Burden, director of the Department of City Planning.
But Tuesday, starting a few hours late, Mr. Recchia was in support.
"I will be moving forward with the project that you see today," he said. "Please vote 'aye.'"
With the vote, Mr. Recchia acknowledged the unresolved issues and said that he expects the full Council will ultimately be ready to pass the plan on July 29.
He also said he and the administration were discussing an expansion of the area set aside for open amusements, an issue that has been relentlessly pushed by a loud collection of groups of amusement enthusiasts and the Municipal Art Society.
"I would like to have been able to expand the area available for open amusements, and I've been actively discussing this with the administration," he said.
With regard to Mr. Sitt, after on-again, off-again discussions, the landlord seems to feel that a deal acceptable to him is within reach, according to multiple people familiar with talks. He is now negotiating with the Bloomberg administration for the city to buy a large portion of his property, leaving him a portion to sell or develop. He paid about $100 million over the past half decade to buy up the bulk of the land in the central amusement area.
ebrown@observer.com and bkavoussi@observer.com