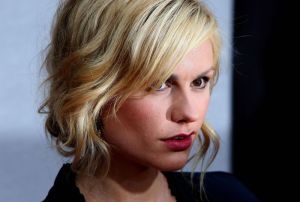 No need to channel-surf! Here's a list of notables on late night tonight. We'll post each weekday, for your convenience!
The Late Show with David Letterman (CBS, 11:30 p.m.): Anderson Cooper, Anna Paquin, musical guest Grizzly Bear.
The Tonight Show with Conan O'Brien (NBC, 11:35 p.m.): Gerard Butler, Venus Williams, musical guest Daughtry.
Jimmy Kimmel Live (ABC, 12:05 a.m.): Zooey Deschanel, Terrell Owens.
Late Night with Jimmy Fallon (NBC, 12:35 a.m.): Anna Paquin, Bill Engvall, musical guest the Jonas Bothers.
The Late Late Show with Craig Ferguson (CBS, 12:35 a.m.):Isaac Mizrahi, Shorheh Aghdashloo.
Last Call with Carson Daly (NBC, 1:35 a.m.): Chris Cornell, with a performance (repeat)
The Daily Show with Jon Stewart (Comedy Central, 11 p.m.): Robert Glennon.
The Colbert Report (Comedy Central, 11:30 p.m.): Edmund Andrews.
Chelsea Lately (E!, 11 p.m.): Brooke Burke, Megyn Price, comedians Chris Hardwick and Gary Valentine.