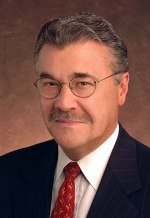 Cushman & Wakefield brokers didn't exactly erupt into spontaneous dance at its second-quarter breakfast at Michael's, but it's fair to say the mood on Tuesday morning bordered on hopeful.
Which is something, when you consider that the mood of quarters past was enough to make some brokers want to abandon the brokerage business for the simplicity of a surf shop in the Bahamas.
Ken McCarthy, Cushman's managing director for New York research, set the optimistic tone with the prediction that job losses in the region would be less than initially anticipated, thanks largely to the paucity of manufacturing jobs in the city.
"That's the good news," Mr. McCarthy said. "Now, Joe will talk about the real estate market."
"Somehow, I don't like that segue," cracked Cushman COO Joe Harbert, before launching into a presentation about how June was an unexpectedly healthy month in Manhattan.
Indeed, tenants leased 1.7 million square feet of office space in June, nearly triple May's velocity. And while 3.7 million square feet of available space overall was added to the market in the second quarter, that's a good deal less than the 5.7 million added in the first quarter of 2009.
"We don't know if June represents an anomaly or an inflection point," Mr. Harbert cautioned.
For sure, there's still plenty to be worried about. Mr. McCarthy said New York will still probably lose another 65,000 office-using jobs over the next 12 months, which, coupled with the imminent addition of 11 Times Square and Goldman Sach's 200 West Street, will likely send the vacancy rate to a peak of somewhere between 14 percent and 15.5 percent.
Meanwhile, Manhattan's overall net effective rents are down roughly 44 percent from their peak in the first quarter of 2008. Park Avenue rents have declined by more than $30 a square foot since September. And midtown has its highest vacancy rate, 11.7 percent, since the first quarter of 2004.
"Midtown's become kind of a value market," Mr. Harbert said.
drubinstein@observer.com