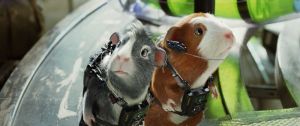 Upset alert! In a somewhat shocking turn of events, G-Force—heretofore known to adults-with-children as "that movie we were dragged to with the talking guinea pigs"—topped the charts this weekend with an estimated $32.1 million in ticket sales, which was enough to knock boy wizard Harry Potter into second place. With Up and The Proposal already having huge runs, G-Force is just another feather in the hat for Disney. Meanwhile, it was a tale of have and have-not for the other new releases: The Ugly Truth danced its way into third, with a decidedly not-ugly $27 million, while Orphan haunted fourth, but with just $12.7 million. As we do each Monday, here's a breakdown of the top five at the box office.
1. G-Force: $32.1 million ($32.1 million total)
Never forget: Kids love talking animals. When placed within that rubric, the surprise success of G-Force isn't actually all that surprising; lest we forget, it was just last year when the similarly themed Beverly Hills Chihuahua managed to gross nearly $95 million. Still, we doubt many people at Warner Brothers thought they'd be waking up this morning to find that their unstoppable boy wizard was taken down by a movie directed by the guy who did visual effects on Kangaroo Jack.
2. Harry Potter and the Half-Blood Prince: $30 million ($221.8 million total)
There will be plenty of hysterics today proclaiming that The Half-Blood Prince is in trouble after crumbling 61 percent in weekend two. Do us a favor, though, and don't necessarily believe them. While losing the top spot to G-Force is certainly embarrassing, it doesn't actually matter. After only 12 days, The Half-Blood Prince is already the fifth-highest-grossing movie of the year and the fastest Potter in the history of the franchise to reach $400 million overseas. We have a hard time considering a film with over $620 million in worldwide ticket sales to be anything other than a runaway smash.
3. The Ugly Truth: $27 million ($27 million total)
Katherine Heigl was right all along: She is a movie star! The polarizing actress further cemented her A-list bona fides thanks to the successful launch of The Ugly Truth. Think of it this way: With a prohibitive R-rating and terrible reviews, the film managed to debut with $27 million, which is only $6 million less than The Proposal did with a PG-13-rating and great reviews. We doubt that The Ugly Truth will have the staying power of The Proposal, but the point remains: Ms. Heigl is poised to have a very long and lucrative career making the romantic comedies that Sandy and Julia outgrow.
4. Orphan: $12.7 million ($12.7 million total)
Where are the successful horror movies this summer? In May, Drag Me to Hell came and went without much of a whimper; now, here in July, Orphan is set to do even worse. With such a glaring hole in the marketplace for what is usually such a lucrative genre, we're wondering if 20th Century Fox is upset they didn't slot their September horror flick Jennifer's Body into early August. We have a feeling it could have cleaned up.
5. Ice Age: Dawn of the Dinosaurs: $8.2 million ($171.2 million total)
For the third week in a row, Ice Age: Dawn of the Dinosaurs barely held off Transformers: Revenge of the Fallen (which, with $379 million domestically, has become the tenth-highest-grossing picture of all time) to finish in fifth place. The story here lies internationally: Though it might not top crack $200 million domestically, Dawn of the Dinosaurs has pulled down over $500 million in foreign sales—roughly $100 million more than Revenge of the Fallen. Who knew Ray Romano had such worldwide appeal?