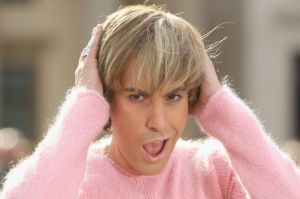 What's Austrian for "not as good as we thought?" It was a tale of two weekends for Sacha Baron Cohen's Brüno. On the one hand, the guerrilla comedy pulled down an estimated $30.4 million in ticket sales to pace the field; on the other, the total gross came in well below the high expectations that were set after Brüno opened with $14.4 million on Friday. There was no splitting the baby with the weekend's other wide release: I Love You, Beth Cooper was a humongous bomb, landing in seventh place with just $5 million. As we do each Monday, here's a breakdown of the top five at the box office.
1. Brüno: $30.4 million ($30.4 million total)
Obviously, Brüno wasn't a sequel to Borat, but it sure performed like one: Almost half of Brüno's ticket sales came on Friday. The alarming 39 percent drop from Friday to Saturday shows that those who wanted to see this film, saw it immediately, while everyone else just kind of shrugged and went to other comedies available to them; notice the slim drops lower down the chart for The Hangover (11 percent) and The Proposal (18 percent). Things won't get much better in the weekends ahead: Viewers gave Brüno a C grade, according to Cinemascore, meaning word of mouth will be tenuous at best and flat-out crippling at worst. Borat, this is not.
2. Ice Age: Dawn of the Dinosaurs: $28.5 million ($120.5 million total)
After failing to top Transformers: Revenge of the Fallen over July 4, Ice Age: Dawn of the Dinosaurs rebounded from a less-than-stellar opening salvo to hold off the giant robots in weekend two, easing just 31 percent in the process. With $120 million already in the coffers, the 3-D kiddie flick is on a similar pace to its predecessor, Ice Age: Meltdown, which hit $195 million domestically. However with Harry Potter looming large, reaching numbers that high might be a tad difficult. Don't hold a collection for Fox, though: With an additional $191.9 million from foreign markets, Ice Age has already grossed enough worldwide to be considered a success.
3. Transformers: Revenge of the Fallen: $24.2 million ($339.2 million total)
Despite a 43 percent drop from last weekend, Transformers: Revenge of the Fallen still passed the total gross of the first Transformers and has now banked $339 million domestically to date. That it's also up to nearly $675 million worldwide speaks to the popularity of this brand name. If you don't think a third film is happening, think again.
4. Public Enemies: $14.1 million ($66.5 million total)
Never underestimate the drawing power of Johnny Depp. In just 11 days of release, Public Enemies has already become Michael Mann's fourth-highest-grossing movie ever, and should eventually wind up with a total in the $90 million–to–$100 million range. Now that doesn't mean the people at Universal are doing cartwheels—after all, Enemies cost north of $100 million to make and had a huge promotional campaign—but this isn't the blood bath that we had expected after the tepid opening. Something tells us that if Public Enemies had starred someone other than Mr. Depp, this second weekend would have been much worse.
5. The Proposal: $10.5 million ($113.7 million total)
The Proposal held off The Hangover (Todd Phillips's film has become the highest-grossing R-rated comedy ever with $222.1 million) to finish in fifth place over the weekend, pushing its total grosses past $113 million. As it turns out, we were dead wrong about Ryan Reynolds. He is a movie star. And coming in 2010, he'll have The Green Lantern to further prove that fact.