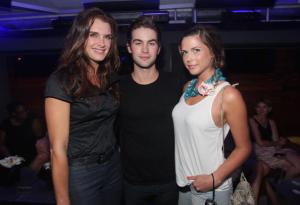 During a promotional party for the new BlackBerry Tour smartphone at the Thompson Lower East Side on Wednesday, July 9, famous freebie seekers Brooke Shields, Olivia Palermo, and Erin Lucas, among many others, had the opportunity to get the gadgets personally monogrammed. Et tu, Fern Mallis?
"That's so sweet," actor Chace Crawford said to a friend who showed off the freshly etched initials on the back of his phone. "I love to BBM!" Mr. Crawford told the Transom, referring to BlackBerry Messenger, the free service for BlackBerry users. "I can't do anything else when I'm BBMing. I'll be doing this"—he looked down and imitated typing with thumbs—"and my friend will be telling a story and I'll be like, 'What?' It doesn't even process I'm so focused on the BBM," he said, laughing, before being whisked away. BB-bye!
The Transom turned and bumped into Ms. Shields. "BlackBerry was my welcoming party to the current century," she siad. "I was a paper person before that! Now I'm addicted!" She paused, adding, "I refuse to have it cut into my family time." No texting at the dinner table, then? "No, but my kids love to play Brick-breaker. My 6-year-old knows how to work it better than I do. It makes me feel like my father when I went to him with, like, VHS!"
Out on the terrace after the rain stopped, Chloe Sevigny talked to the Transom about her smartphone etiquette: "I like to put mine on quiet because I don't want to reach for it every time it vibrates. I just check it periodically. It's a much better way to live your life!" Ms. Sevigny said she doesn't like to keep her phone out at all times, "Unless, maybe, a boy's gonna call!" she said. "Or text."
The Beautiful Life's Nico Tortorella used his PDA to show off pictures of his new puppy, Mama, and her soon-to-be-adopted housemate, Madonna. "Isn't she beautiful?" he gushed. If his BlackBerry could have one feature it doesn't already have? "Make me fly. Or teleport—that would be cool, too. Or stop time, and then keep going faster!" Mr. Tortorella said he uses his phone at all times—including, shame on him, behind the wheel. "I've had way too many accidents," he confessed. "Memorizing lines on my BlackBerry on the way to auditions." On the way to death, sir …
"They showed me how to use it," said 30 Rock's Judah Friedlander of his maiden BlackBerry. "I didn't understand one thing. It's very complicated. I think I'll have to take some classes. I'm not good at class, so I don't know if it's gonna work out." How did he ever live without one? "Home phone, cell phone, and talking," he said.