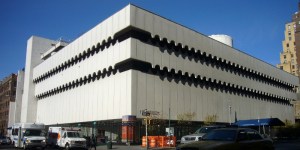 Let's face it: The O'Toole Building may be a unique landmark—but many locals agree that the soon-to-be-demolished West Village hospital adjunct is not all that attractive, either from afar or within.
"I'm not going to miss that building—the maintenance is so bad," said Maki Yoshi, the owner of the nearby Miyagi Japanese Restaurant, who said that St. Vincent's has poorly maintained O'Toole for the past decade. "Architecturally, I don't think it's beautiful. … The homeless people throw garbage there, they never pick it up, it's disgusting. It's so bad for this neighborhood. … It's already broken."
But on the inside, O'Toole actually is "too clean," said one local who asked not to be named. "It's very sterile. … All the people receiving aid there seem to be relieved when they come out," he said. "It would make a good reformatory or prison."
The nearly windowless 1963 hospital does feel like it hasn't been renovated for a while. Stalls in the first-floor women's bathroom lack locks, some toilets cannot flush, soap dispensers come up short, and some sinks refuse to turn on. The lights give off a loud static sound; the white and sickly yellow walls are mostly bare, and a strange smell emanates. The rickety silver elevator has three buttons: Floors 1 and 2 and "Door Open."
It is a state that St. Vincent's Hospital itself has put O'Toole in, just because it doesn't want it anymore. Ever since 2007, St. Vincent's has sought approval from the Landmarks Preservation Commission to demolish the O'Toole Building at 13th Street and Seventh Avenue, replacing the Modernist landmark with a modern $830 million, 286-foot hospital building. In March, after much maneuvering, the LPC voted 6-4 in favor of a revised proposal when St. Vincent's submitted a much-mocked hardship application, claiming that demolishing O'Toole was essential for them to continue doing charity work.
The LPC overwhelmingly approved the other prong of St. Vincent's and the Rudins' plan just two weeks ago: to build a massive condo in the place of the other main hospital building, across the street from O'Toole at 12th Street, in addition to building and redeveloping several townhouses. The project still needs to go through the City Council, but the LPC is known by most to be the most significant hurdle.
For the most part, it looks like locals are not going to miss O'Toole much—even if they have their reservations about the new development. Even the Greenwich Village Society for Historic Preservation—which originally sued the Rudins and St. Vincent's to prevent new tall buildings in the area—gave O'Toole the shaft. "We didn't find O'Toole to be historically significant," said Andrew Berman, executive director of the society, in an interview after the July 7 LPC vote. "But we took issue with the hardship case."
But nearby stand owners said they support the new project. "If it is a big building, I make a lot of business," said Mohammad Ahmed, a Cairo native who has been grilling kabobs at a stand right outside of O'Toole for the past four years.
INDEED, WHILE MOST LOCALS DON'T seem emotionally attached to O'Toole, many question the need to demolish it and build a taller, more massive hospital in a low-rise neighborhood. A receptionist at the nearby Integral Yoga Institute suggested that O'Toole could be turned into an art museum, while a new hospital could be built somewhere else.
Still, most accepted that such is the way of the world. "I thought [O'Toole] had some character. But it's New York—what are you going to do?" said Peter Hall, a construction manager for HLW Architects. "You always go bigger and higher."
But what if Manhattan loses the Village—its low-rise haven for young Bohemians and artistic reflection? "New York is supposed … to have understood that Brobdingnag is all very well—indeed is very desirable and impressive—in Wall Street and Midtown, whereas a touch of Lilliput is necessary on the Lower East and West Side," none other than Christopher Hitchens declared in a Vanity Fair article last year. "Can they [developers] really not rest until every street and every block reflects their own ambition back to them, and until one size fits all?"
A number of locals are cynical about the development as a whole. Sal Varbero, a Staten Island retiree who spent most of his life living in Greenwich Village, and whose wife still sees a doctor at St. Vincent's, said that he thinks the whole project "stinks"—especially the plan to tear down the St. Vincent's building across the street in favor of a condo.
But his wife, Elsa, said that she's glad that St. Vincent's will be helping more people, and will not miss O'Toole.
"I don't like this building," Ms. Varbero said, while sitting in a green chair in O'Toole near her husband. "It's kind of old, and what do you say—" She gestured, searching for a word.
"I say plastic," Mr. Varbero offered.
bkavoussi@observer.com