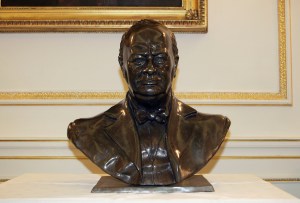 On Tuesday, June 30, members of the Marines, New York Police Department, Air Force and other guests gathered at the New York Athletic Club for Mess Night, the annual re-creation of an event held on Saturday, March 20, 1920, by the 9th ( Scottish) Division at Oddenino's Imperial Restaurant on London's Regent Street that was attended by Winston Churchill.

Guests started to arrive around 6 p.m., soaked by the unsurprising downpour, and welcomed with Nat Sherman cigars. Before walking into the dining room at 8 p.m., they were shown "The Rules," a long list of things they were not allowed to do therein without a fine from Mess President Joe Lisi, former Corporal in the U.S. Marine Corps: elbows on the table, chewing gum, and so forth.
"Poule au Pot Alexandra" and "Culotte de Boeuf Imperial"—re-creations of the 1920 fare—were served as "Mr. Vice," a retired Lieutenant Colonel in the U.S. Marine Corps named Arthur V. Gorman Jr., walked around looking for people to fine.
Jarred Sper, an ex-Marine who now currently co-owns Choice Productions, an event production company, was feeling voluble.
"It's very elegant and posh, and by the end of the night they'll be standing on chairs, and hollering Mr. Vice and he'll make them do shots." Mr. Sper said. "That's the thing about the Marine Corp. You go through so much, and it's miserable at times, but as hard as they work, they're going to play even harder."
How has Mess Night changed over the years?
"If anything, I would say now it's a little more tame," Mr. Sper said. "I mean, the Marine Corp was started in a bar! They keep it to the roots. They like to go out, entertain, have a good time, but at the same time, when you're on the clock, there is no 'What about last night?' 'No, we're not talking about that. That was last night. This is right now and we got to get this done.'
Mr Vice had nabbed a man wearing a black shirt with a white tie. "This is a black-tie event, not a white-tie," Mr. Lisi said. "What are you, in the entertainment business or something? Fined $20!"
One man brought in his own booze; another was wearing brown shoes with a blue tie. Both were tithed, and willingly forked up.
All of the money went to the Marine Corp, and the National Foundation for Facial Reconstruction, which works with children born with craniofacial deformities.
Three men emerged and reenacted a scene from the behind the front lines near Belleau Wood, France, in July 1918.
"It's not stuffy, right?" Mr Lisi asked the Transom rather proudly of the evening's program. "When it's all military people, all Marines, nobody talks. They don't violate the mess." Of the fines, he said: "I know these people can afford it. They want to be fined."
Speaking of Marines' constitutional loyalty, Mr Lisi went on: "That is put into your skull when you're in boot camp, or in office candidate school. Around the time when you're 18, if you're an enlisted man, or 21 as an officer, that is drummed into your head. They say they take your heart out and they put an eagle globe anchor inside and you never forget it. That's why when that guy said he was a former Marine, they all said, 'Wowwwwwww!" Because there is no such thing as a former Marine."
He pointed to the front of the grand hall. "We have up at the head table the guy who fought on Iwo Jima. He's 85 or 86 years old. But when he gets with these guys, you look in his eyes, he's 20 years old again. That sparkle comes back."