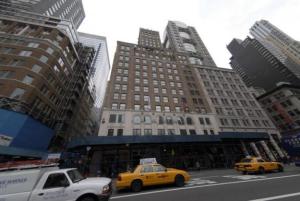 You can have it if you want it … and have $105 million to spend.
The dun-colored, 23-story 475 Fifth Avenue, which lender Barclays Capital earlier this year took back from Westbrook Partners and embattled developer Joseph Moinian, is now quietly letting it be known that it will part ways with the office tower for the aforementioned sum, say industry sources.
Mr. Moinian and Westbrook closed on his purchase of the building on April 2, 2007, amid an epic buying spree, paying $160 million.
It's a lovely-looking, 84-year-old building, nicely located at the southeast corner of Fifth Avenue and 41st Street, across from the New York Public Library and the amenity-strewn lawns of Bryant Park. But it's also a fairly empty building, according to sources. The price in question comes to about $381 for each of its 275,284 square feet.
Cushman & Wakefield's capital markets group recently reported that the average price for one square foot of nice office space in midtown was $392. Last year, it was $941.
A spokesman for Barclays Capital, declined to comment. So, too, did Robert Lapidus of L&L Holding Company, which manages the tower for Barclays.
drubinstein@observer.com