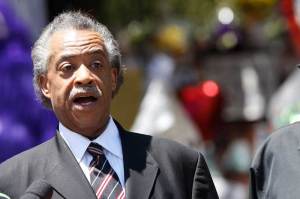 It takes a special kind of skill—or nerve, maybe—to sell the idea that Comptroller Bill Thompson will beat Michael Bloomberg in the mayor's race.
The Rev. Al Sharpton possesses it.
On the morning of July 18, Mr. Sharpton endorsed Mr. Thompson at an event in Brooklyn. Both wore dark suits, crisp white shirts and blue ties, and were surrounded by a wall of sign-waving Thompson supporters.
A television reporter asked the reverend how his 2009 candidate might do any better against Mr. Bloomberg than his preferred candidates had in 2005.
And he was off.
"How would he win this race?" Mr. Sharpton said. "I would say that we're in the time of, those that seem like they can't win are winning. We're at a time when a Barack Obama won, and no one saw that he could win. So it is a time of the underdog. It is a time of the people saying, 'I don't want the same thing that put me in the situation that I'm in.' So I would not count on the improbability factor anymore. The only thing that is improbable now is the improbability factor. And I think that the specific strategies that he will use to win, it would be unwise to lay it out. Those that tell you the road and the map to Thompson's victory don't know. And those that know won't tell you."
Later, Mr. Sharpton was asked what two of Mr. Bloomberg's recent high-profile endorsements—from Newark's mayor, Cory Booker, and Washington, D.C.'s mayor, Adrian Fenty—said about the mayor's standing among African-Americans.
He pounced.
"Well, I'll tell you what," said Mr. Sharpton. "Since we're all friends, and all cordial, why don't we have Billy Thompson and I and the mayor and those two gentlemen campaign together in the middle of any African-American community that you said, and let's see what the reaction is."
"Is that an official offer?" Mr. Sharpton was asked.
It is, he said.