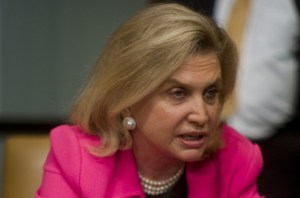 WASHINGTON–As her colleagues in the House of Representatives made their way, with coffee cups and greasy McDonald's bags, into room 2128 of the Rayburn building for a financial services committee meeting on the morning of July 9, Carolyn Maloney was already busy.
Wearing a bright pink skirt suit and white blouse, with a frosted crest of blonde hair and pearls, Ms. Maloney, the 61-year-old representative of New York's Silk Stocking District and the noisiest potential primary challenger to Senator Kirsten Gillibrand, put her hand on the elbow of Barney Frank, the committee chair, as he tried to squeeze by her seat, so that she could get in a few words.
 "I'm not doing that, I'm not doing that," responded Mr. Frank, throwing up his arms and then moving on.
The meeting adjourned after three votes. Ms. Maloney took a cup of coffee and her red Hermes purse up to the second floor, where she chaired a hearing on commercial real estate for the Joint Economic Committee.
Ms. Maloney marked up her notepad with a pencil as the panel testified and mouthed "wow" when one witness estimated the industry's projected losses.
About 20 minutes into the hearing, an aide informed her that votes needed to be cast on the House floor.
"This is life on the Hill," she said with the slight southern drawl she brought with her from her native North Carolina. "You never know what is going to happen."
An eight-term congresswoman from New York's 14th district, Ms. Maloney is not easily ignored. The unremitting, scattershot manner with which she presses colleagues is, for her admirers, evidence of unusual persistence and dedication. For her detractors it is proof of self-promotion, shamelessness and flightiness.
She has advocated for and helped pass myriad bills, while she has consolidated her hold on Democratic politics on the Upper East Side, where she is a macher and matriarch. Now, as she challenges the most senior officials of her party, including Senator Chuck Schumer and President Barack Obama, by declaring her intention to run for Mr. Gillibrand's seat, Ms. Maloney is introducing herself to a much larger audience, and introducing a measure of unpredictability into what was supposed to be a done deal.
As she moved through the Capitol, she touted her record on financial and housing policy in the hallways, elevators and down in the basement, where, off to the side, Representative Anthony Weiner yelled at an aide.
She was still talking as aides prompted her to board the next train to the House floor. 
On the floor, as members milled about, she found a seat next to Carolyn McCarthy, a no-nonsense Long Island representative who at one point had entertained the notion of running against Ms. Gillibrand if no one else did. Ms. Maloney spoke, mostly uninterrupted, for about 10 minutes, as Ms. McCarthy looked forward and nodded.
Between votes, Ms. Maloney chatted with colleagues and advocates in the Rayburn lounge across from the chamber. Then her cell phone rang with bad news. Kathy Wylde, the president of the Partnership for New York City, who had been hanging around on the tiled floor before the main door of the House floor minutes earlier, had left without seeing her. ("Oh no, oh no, oh no, oh no. I was here looking for her, oh no.")
Ms. Maloney offered a brief tour of Statuary Hall, just south of the Rotunda, and pointed out a marble statue of women's suffrage leaders which she had helped excavate from the Capitol's basement.
 "It's a very funny story. I write about it in my book, 'Rumors of our Progress Are Greatly Exaggerated,'" Ms. Maloney said, referring to a book she wrote with former staffer Bruce Corwin and Dan Squadron, who is now a state senator representing parts of Brooklyn and Manhattan. (The full title is "Rumors of Our Progress Have Been Greatly Exaggerated: Why Women's Lives Aren't Getting Any Easier–And How We Can Make Real Progress For Ourselves and Our Daughters.")
She talked about the progress women have made.  
"It's not so much the first appointment, it's the second. When Madeline Albright became secretary of state, everyone was so very surprised. I was the chair of the women's caucus then. I called her up and I said, 'Let me organize all women.' And she said 'Don't you dare. I can't run as a woman. If I run as a woman I won't get it.'"
She talked more about her "landmark" bills, the credit card bill of rights ("Many people have cited it as the most important consumer protection bill ever to pass the United States Congress.") her advocacy for victims of September 11 ("I formed the 9/11 caucus to get the $20 billion. You can just Google it. Every day I was all over the place.") legislation in support of rape victims ("They made a movie out of it, a Lifetime movie, called 'A Life Interrupted.' It's a story about my battle to get the bill passed.") and a litany of human-rights legislation, including one bill she championed on the House floor in 2001 by wearing a burqa.
When asked about a remark she recently made in The New York Times comparing her current political situation in the establishment's resistance to her challenging Ms. Gillibrand in a primary to the struggle for Democracy in Iran–"People in Iran risked their lives to vote. New Yorkers deserve the same"–Ms. Maloney said, "I never compared New York to Iran. I was just saying that there has been a lot of pressure that there shouldn't be a primary. Why not?" she said. She also said, "And Schumer, if you read his book, he said his primary strengthened him."
At this point the phone in her right hand started ringing.
 "I was just saying elections are great," she said, as she rummaged through her red purse in search of the phone, which continued to ring in her hand. "And Iran, I was thinking, what is the story of the year? Is it going to be health care, is it going to the 9/11 health bill, what is the story going to be? I was giving speeches on the floor and I know the Voice of America was shooting them into Iran because we got notices in that they were listening. I found what was going on there inspiring. You want a cookie?" she said, extracting a loose oatmeal cookie from her purse.
"Oh here it is," she said, and answered the phone.  
After casting the last in a series of votes, Ms. Maloney crammed into an elevator with a group of other members, including Representative John Conyers Jr. of Michigan, who is the chair of the House Judiciary Committee.   
 "You going to come to New York to speak on universal health care?" Ms. Maloney asked him.
"That was last weekend," he said in his quiet voice.
"Oh, that was last weekend," she said. "Wow. Oh, you're kidding, I got the notice this week. They said, 'Come over.' So you think we'll get the public option?"
"Ask the Blue Dogs? Ask the moderate Democrats? Ask the Republicans?" he said.
Ms. Maloney stared and smiled at him for a few seconds.
"Name of the game," she said.
After another few silent seconds she asked, "You going to have hearings on the Equal Rights Amendment? You should have hearings, should announce it and say you are going to bring it to the floor for a vote!"  
The elevator doors slid open and Mr. Conyers started walking away.
"John? John?" Ms. Maloney said, pursuing him.
"Say you'll bring it to the floor for a vote, I got 200 votes!" Ms. Maloney persisted as she followed him down an escalator to the underground trains.  
"But you got to introduce it first," said Mr. Conyers, his back turned to her.
"We can do it on July 21st!" she said, suggesting a place to do it.
"Why don't you do it in a Judiciary Committee Hearing?" he said, relenting.  
The escalator reached the basement and Ms. Maloney walked past her colleagues to an open seat at the front of the train.
"Hello Mr. Chairman!" she said to Mr. Frank, who stared intently forward, into space, raising a finger off his knee in acknowledgment.
"I get a thrill when I walk across the street and see the dome of our Capitol," said Ms. Maloney as the train began moving towards the House office building. "The unity, the history, I get a little patter. And when I no longer have that patter I think it's time to go on and do something else. Don't you get that when you think of all the great decisions that were made in this Capitol? For freedom and democracy and rights for people and helping people. Look at the Credit Card Bill of Rights."
The train arrived and she filed into another elevator back up to the Rayburn office building with other members, including Representative Maxine Waters of California.
"That's my candidate!" Ms. Waters said upon seeing Ms. Maloney.
"Are we the ladies of the house are we the ladies of the house?" said Ms. Maloney.
"That's right," said Ms. Waters, who then called the credit card bill the most important of the session.
"How d'you like that?" said Ms. Maloney. "The most important bill of the session. Whooah. You put that above the energy bill, baby!?"
Ms. Maloney then rushed back to the committee she was chairing about commercial real estate and huddled with her aides in the hall, who hurriedly briefed her about what she had missed and suggested she ask the witnesses about the danger of systemic failure.
"Great question! Love it! Great question," said Ms. Maloney, who then took her seat at the center of an elevated dais.
"I would really like to ask any of the panelists about systemic risk," she said.
Her day was only half over.
Since Governor David Paterson passed over Ms. Maloney and other potential Senate appointees in the New York Congressional delegation by appointing Kirsten Gillibrand to fill Hillary Clinton's seat in January, nearly all of the players in New York's power establishment—some grudgingly–have lined up behind the junior senator. Even Mr. Obama got involved in efforts to keep the field clear, calling Representative Steve Israel to ask him to stand down, days before he was to announce a bid for Ms. Gillibrand's seat.
But Ms. Maloney refuses to get the message. Buoyed by early polls that show her slightly ahead of Ms. Gillibrand among the minority of Democratic voters who already have a preference, and motivated by a mixture of bruised feelings and genuine outrage over the appointment of a woman she considers both unqualified and cynically opportunistic, Ms. Maloney insists that she is preparing to run her first competitive race in 18 years, despite the fact that she'd have to give up her safe House seat to do so.
She has hired Joe Trippi as a strategist, Cindy Darrison as a fund-raiser and Richard Fife as a campaign manager. 
And yet, for all of Ms. Maloney's stated intentions and preparation, some of her colleagues—even ones who are not sympathetic to Ms. Gillibrand—aren't totally convinced she'll go through with it.
"She hasn't announced yet," said Representative Gary Ackerman. "There are some times people who announce and then they don't run and then there are some times people who don't announce and then they surprise you and they do run."
He added, "There is a long distance to go between wanting to run and running. We have a place here with a lot of ambitious people. This still has a ways to play out."
Ms. McCarthy said of the likelihood of Ms. Maloney's running "I think she is going to do her best to do it." And if she went through with it?
"Of course I'm going to support her."
Some of Ms. Maloney's opponents within the party establishment simply don't think she's up to the task of being a senator, and find her brand of tenacity to be grating. Mr. Schumer, in particular, is known to have a low opinion of her abilities and her intellect.
In an interview on July 11 in her campaign office on 93rd Street, around the corner from her Upper East Side home, Ms. Maloney responded by saying, "I can't speak for other people, I think my legislation record is one of hard work."  As for the criticism that her persistence grates on people, she said, "If anything, I think I have southern charm." 
She sat at a desk looking out onto the backyards of townhouses between Fifth and Madison avenues. On the walls, there is a map showing 2008 election results and a headshot of Lifetime-staple Jaclyn Smith. On her desk she shuffled business cards bearing her name and fidgeted with a red lamp made from a football-sized crystal that is supposed to exert a calming effect.
Then under the watchful eyes of Mr. Fife ("He says never say anything negative about her. I have nothing negative to say about the junior senator from New York") Ms. Maloney proceeded to excoriate Ms. Gillibrand.
"Did she author anything of significance?" said Ms. Maloney. "The 9/11 bill.  I worked on that bill for seven years. Seven and a half years!"
When asked if it wasn't a good thing that Ms. Gillibrand had picked up that bill in the Senate, as she did to great fanfare last month, Ms. Maloney said, "Yes it is, but there would be no 9/11 health bill if it weren't for Carolyn Maloney."
She added, "I gave the bill to Schumer and Schumer gave it to her. It was my bill, I gave it to him. 'Here it is.'"
(Mr. Schumer's spokesman Josh Vlasto responded by email: "It was always intended to have Hillary's successor continue her work by carrying this bill in the Senate.  Sen. Schumer wholeheartedly supports this and all efforts to help the 9/11 workers and first responders receive the health care and treatment they need and deserve.")
Mr. Schumer, who is effectively Ms. Gillibrand's mentor and political rabbi, has assured that Ms. Gillibrand has been able to attach her name to high-profile bills that provide her with a compelling record to point to in an eventual campaign. (On July 13, Mr. Schumer let Ms. Gillibrand introduce Sonia Sotomayor at her confirmation hearings.)
His concern, and the White House's, for that matter, is that a primary could weaken the Democratic candidate and end up costing the party an important seat, or at least force the party to expend resources where it shouldn't have to.
Ms. Maloney counters that there is no chance of a Republican winning in New York.
"We are in a Democratic State now," she said.
Referring to a New York Times article about Ms. Gillibrand's work as a lawyer for tobacco giant Philip Morris, Ms. Maloney said, "It's the most devastating thing I've ever read about a politician, on her role with the tobacco industry.
"Most people I know in politics don't even take money from the tobacco industry, much less go to work for them. But what that article said is that her job was not just to work for them, but her job was to teach people testifying before Congress how to lie about the health effects of tobacco."
Ms. Gillibrand did indeed change her positions on guns, immigration and gay rights, issues important to New York City liberals. But now that she has, Ms. Maloney, like many of her supporters, has trouble citing any substantive difference that she'd offer in the Senate.
And Ms. Gillibrand's supporters point out that Ms. Maloney's record as a committed progressive is not without its blemishes.
She voted for the Patriot Act, for deregulation of the financial system, and, after a tearful address on the House floor, for the war in Iraq.
"The president of the United States, it has been proved, lied to the American people," said Ms. Maloney when asked about the war vote.
"My God, she never switched. At least I switched and then opposed it. I think if you look at her votes she continued to support the funding for the war and the war, long after all of us."
Asked if she thought that vote might be brought up by Ms. Gillibrand's campaign, she said "I'm sure they'll use anything and everything against me." 
Born Carolyn Bosher in Greensboro, North Carolina to a stay-at-home mother and a father who sold insurance and then real estate, Ms. Maloney had set her sights on becoming a ballerina, an aspiration of which she is now vaguely ashamed.
"Women from the South had modest ambitions," she said.
In her teenage years, the family moved to Virginia Beach, where a drunk driver destroyed those dreams by plowing into Ms. Maloney's car. She nearly died, and spent six months in a body cast. She was laid up for a year and still feels pain when she exerts herself.
To this day, though, she is passionate about dance, keeping a signed poster from American Ballet Theatre in her House office above a picture of her with former Pakistani President Pervez Musharraf.
"If I ever have stressful days, I'll close the door and I'll dance," she said. "The discipline of dance is very centered. The problem with a lot of these Republican leaders is that they have never done an adagio."
With professional dance no longer an option after the crash, Ms. Maloney majored in education at Greensboro College in North Carolina, and then attended the Law School at the University of North Carolina. Her roommate there had family in New York, and in the summer of 1970, at age 22, Ms. Maloney took a bus down to the city. She liked it so much she left her studies and stayed.
She ran in fairly rarefied circles. She recalls a luncheon where Helen Hayes recited passages from The Merchant of Venice. She also remembers a friend of hers getting picked up for a date in a helicopter.
"I thought 'My God, New York is unbelievable.'"
Ms. Maloney, who held jobs as a doctor's assistant and then a position at the now defunct Chemical Bank, ended up teaching welfare recipients in East Harlem.    
"I'd meet guys and they'd say, 'What are you doing?'"
When New York State stripped her program of funding, the teachers got together and elected a representative–Ms. Maloney–to argue their case. She went to Albany with other representatives from the Board of Education, none of whom had any luck. Ms. Maloney, on the other hand, not only managed to see all the legislators, but they invited her out to the local restaurant after work. She came back to the glum faces on the bus with a blueprint drafted by the legislators of who she needed to see and what she needed to say.
The state restored the funding, and Ms. Maloney became the board's lobbyist and legislative aide for seven years.
Ms. Maloney joined the Lexington Democratic Club, and married Clifton Maloney, a successful investment banker and, frustrated at her inability to get a staff position in the legislature, sought out "a rabbi."
She found one in Assemblyman Edward Lehner, best known for introducing the so-called pooper-scooper law to New York, and in 1977, she became a legislative aide.
During one meeting, she bugged Assemblyman John Dearie so much that he told her to stop talking. A few months later, she recalls, he offered her a job.
In 1982, she won a city council seat race in an overwhelmingly minority district in East Harlem. 
According to former council speaker Peter Vallone, Ms. Maloney was dogged in the extreme, and while she was the first councilwoman to give birth in office– she has two daughters–and worked to pass bills requiring more women's restrooms in city playhouses, her real professional highlight was when she spearheaded the Council's campaign against no-bid contracts. 
In 1992, the so-called year of the woman, she took out Republican Bill Green, with the help of the expansion of her district to include some more Democratic neighborhoods in Queens.
She's held the seat for 17 years without a problem, and could probably keep it for life if she wanted to. The only question now is whether she is really willing to give it up to try and oust Ms. Gillibrand.
"I'm seriously, seriously considering it," Ms. Maloney said, sounding very much as if she'd made up her mind.