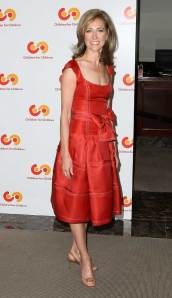 In the opening scene of The Good Wife, an hour-long drama that premieres on CBS this fall, actors Chris Noth and Julianna Margulies hold hands as they walk down a carpeted hallway, through double doors and into the flashes and tape recorders of reporters.
Mr. Noth is in a suit and red tie. Ms. Margulies wears a pencil skirt, a blue herringbone blazer and pearls. The camera closes in on her face, which is pale and still.
"Good morning. An hour ago I resigned as state attorney of Cook County," says Mr. Noth's character, named Peter Florrick. "I have never abused my office. … But at the same time I need to atone for my personal failings with my wife, Alicia, and our two children. The money used for these transactions was mine and mine alone. No public funds were ever utilized. But I do admit to a failure of judgment in private dealings with these women."
In March of last year, executive producers Robert and Michelle King (they're married) were watching Silda Spitzer on TV as her husband, New York Governor Eliot Spitzer, resigned from office.
"The Spitzers were prominent, but it was really the spring of scandals," Mr. King told the Transom. "They all had the same interesting character in it, which was not the husband, but the wives, who were almost used as props. There was nothing more worthy of high drama than what was going through these wives' heads."
Mr. King didn't understand why politicians' wives stayed with their husbands; his wife argued for the complexity of the situation. These disagreements led to a script about a once independent and successful political wife who faces a philandering husband and returns to work as a defense attorney. By summer, they were pitching the show to ABC, which passed, and to CBS.
Ms. Margulies remembered the inescapable footage of the Spitzer resignation.
"If you went to the gym, it was there; if you went online, it was there," she told the Transom by phone from her New York apartment. "There wasn't one person who didn't scream out, 'Why are you there?' We were all so quick to judge her."
After Ms. Margulies met with producers Ridley Scott and David Zucker and accepted the part, she studied the humiliating press conferences of the Clintons, the Spitzers and the McGreeveys. "Every single woman that I watched standing behind her man aged 10 years in a span of two months," she said. "Then afterward, you see them bounce back. Silda Spitzer was in Vogue recently, and she couldn't look better. She is running a hedge fund and she seems to have the world at her feet." (Ms. Spitzer, who works for Metropolitan Capital Advisors, declined to comment.) "In order for this to work, everyone had to be in love with him," said Ms. Margulies. "All these guys that have fallen from grace, they're so magnetic. Bill Clinton, I'm sorry, but when all that happened, I kind of understood it. I mean, he's gorgeous!"
The show will follow Alicia Florrick (Ms. Margulies) in the aftermath of the very public sex scandal. In one scene, her teenage daughter calls and says, "A girl at school said that Dad slept with a hooker my age." In another, she watches the TV at her office as news is reported that the "celebrity call girl," who is blond and does not look at all like Ashley Dupre, is writing a memoir.
"The premise of the pilot is that now you can go anywhere with it," said Ms. Margulies. "And now we can just start peeling her like an onion because eventually she'll just snap."
Mr. King spoke highly of Mr. Noth as the wayward politician. "There is something charming about him—he pursued it with a little bit of Clinton," he said.
And the cast and producers were thrilled when South Carolina's governor, Mark Sanford, admitted to having an affair with an Argentine woman just a few weeks ago.
"You should have seen some of the memos going around from agent to manager to producer, like, 'Could we ask for better publicity?'" Ms. Margulies said. "But I really applaud Jenny Sanford's reaction to the media; she was so unbelievably classy, as were Silda and Hillary. These women are smart. They're not wallflowers.
"The great question is, as women become more present in political arenas, are we suddenly going to find out about their affairs?" Ms. Margulies mused. She thought about it for a moment and started laughing. "Actually, I doubt it. We're just too busy."