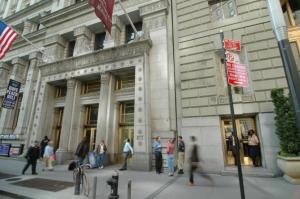 MetSchools, the privately run operator of a clutch of prep schools in New York, has signed what is likely the largest downtown Manhattan lease of 2009 — a 200,000-square-foot, 20-year deal (with another 10-year renewal option) at the neo-Renaissance Cunard Lines Building at 25 Broadway.
In a year that's been largely devoid of big lease transactions, particularly in the downtown arena, this is a big coup for Newmark Knight Frank's Howard Kesseler, who repped the school in negotiations with landlord ACTA Realty, which was represented by CB Richard Ellis' Bruce Surry, Gary Kamenetsky, Richard Levine and Stephen Siegel.
Starting in September 2010, both Claremont Prep's elementary school and the new high school into which the lower grades spill, will occupy the ground floor (with a pool), the second floor and floors 19 through 22, the latter opening onto a 20,000-square-foot terrace. The school will have a separate entrance with the address One Morris Street.
MetSchools had additionally drawn up a lease with the Sapir Organization at 100 Church Street, but negotiations with the landlord's bank supposedly dragged on so long that the school walked away (the Sapirs had no comment).
Asking rents for the building range from $38 to $40 a square foot, according to real estate database CoStar. The taking rents, we presume, were lower.
drubinstein@observer.com