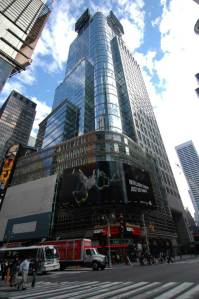 The casual, take-it-as-it-comes attitude that's prevailed over Condé Nast during the past 10 dark months vanished from the atmosphere somewhere above 4 Times Square this week.
The shift in mood started late Monday afternoon when Condé Nast CEO Chuck Townsend sent out a companywide memo that said, rather coldly, that the consulting firm McKinsey & Company had been hired to help the company "rethink" how it does business. A realignment, he said, would be in order.
The memo roiled the whole building.
"It's terrifying! It freaked me out!" said a Condé Nast staffer. "Is this part of a McKinsey thing to do that? You know, a must-alert-all employees thing? They never do this! This isn't a company that does a lot of internal communications."
"It wasn't sensitive and it wasn't very human," said another. "You want to stress this to your employees, but you don't want the scare the living daylights out of them."
Conversations with McKinsey have been ongoing over the past two weeks, and the relationship with Condé Nast formally began on Monday.
"They're beginning this week and we'll see where it goes," said a Condé Nast spokeswoman, Maurie Perl, a bit ominously.
A source said that Mr. Townsend sent out the email because it would be impossible to keep secret McKinsey's presence in the building for the rest of the summer.
Over the next few weeks, McKinsey's team will be scheduling interviews with the likes of Anna Wintour and Graydon Carter, along with their managing editors and publishers, to gather information about how they run their businesses, a source said.
It's one thing to imagine McKinsey minions infiltrating Time Inc. (which they did, back in 2007), or a similar publicly owned media company that needs to report to shareholders. But at Condé Nast? Imagine Graydon justifying Annie Leibovitz to a strange man in a suit. Will Anna answer questions about her clothing allowance? It's not precisely the way of that culture.
Indeed, Mr. Townsend's "important announcement" wound up whipping the building into a frenzy that created considerably more tension than anything else had in the past year.
"My email and my phone literally did not stop yesterday," said one staffer. "Everyone was walking around talking about it."
And then! If the memo didn't have everyone freaked out enough, by the time Tuesday morning rolled around, Condé Nast had announced its September ad page numbers. The September monthly issues, the breadbasket for the company's revenues, were down a total of 37 percent from the previous September, with four magazines tumbling more than 50 percent. Vogue, which last year weighed in with more than 600 ad pages, stands at 427 ad pages.
For the past 10 months, Condé Nast has tried to keep the pain to a minimum. Books like Domino and Si Newhouse's pet, Portfolio, were folded; publishers and editors saw their budget's cuts by 5 percent last October and then by another 10 percent this spring. Most magazines were able to avoid mass layoffs by instead eliminating unfilled positions and trimming a little fat from their budget lines.
Condé Nast executives consistently reassured publishers and editors internally that each decision was part of making smart, calculated cuts here and there. These may have erased some of the fun and larger-than-life extravagance from Condé Nast, but perks, executives said, would return when the economy bounced back.
But the decisions had the appearance to many in the building of being small-minded stopgaps to a bigger, unavoidable problem at hand. And by hiring McKinsey, the company seems to be signaling that things had spun so out of control that they can't handle this all themselves, and that the days of quick-fix solutions (cut the Portfolio Web staff! Cut the publishing schedule! O.K., fine, kill the magazine!) are over.
"There is no job that is safe and no book that is safe," in the words of one Condé Nast source.
"It's a serious situation," said another source. "It's not because we're bad people or because we're doing a terrible job after doing a great job, but they have to react to the economy like any company, whether it makes cardboard boxes or tires or glossy magazines."
Condé Nast: All the glamour of Goodyear.
The one thing about which editors and publishers still seemed unclear on Tuesday morning was what precisely the point of McKinsey's study would be.
"This is an elaborate way to get the editors to trim their fucking budgets," speculated one business-side player at Condé Nast.
"I have a feeling that the McKinsey thing is just a shield or a distraction from what they're really going to do: They just want to shut down magazines," said a source.
One high-ranking source insisted, however, that McKinsey's hiring is not merely a measure to spill blood everywhere. If that were the case, the source said, they wouldn't need to write McKinsey a very big check. Instead, it is to get help from an "organization that has a finger on the pulse of what's happening in business instead of doing it in a vacuum," the source said.
Either way, the fallout continued Tuesday. Staffers interviewed for this story cast blame nearly all over the building—why does Vanity Fair have such a big masthead? Why does Teen Vogue even exist? What's the point of Details? Why is Richard Beckman allowed to develop Fairchild when there's nothing there to develop?
It got ugly.
This is not the first time Condé Nast has called on McKinsey. Back in 2001, Condé Nast had hired McKinsey to help streamline the company's finance and human-resource divisions and develop a back office for employees in Delaware. That was a time when Condé Nast was blooming into a grown-up company. This time …
"It's worse," said a source.
And for all those terrified employees … Mr. Townsend is considering holding a question-and-answer session on video for Condé Nast employees that would be available on the company's intranet. This is being done instead of, say, a town hall or a Times-style gathering of the newsroom since, in the words of one source, Condé Nast feels compelled to "manage" the event. Mr. Townsend, apparently, is about as nimble with public speaking as he is writing a companywide email.