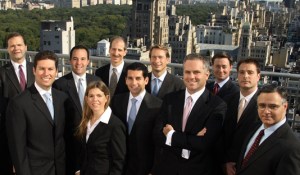 Jonathan Yormak has left Broadway Partners, the young, Ivy League-educated real estate firm that used short-term debt to devour New York real estate at obscene prices during the heyday of the boom.
He could not be reached for comment. But a source familiar with the Broadway's goings-on said that Mr. Yormak, the firm's chief operating officer, had told founder and CEO (and friend) Scott Lawlor that he would leave, once he finished overseeing the workouts of their short-term debt, including that tied to the 24-building national portfolio that Broadway bought from Beacon Capital Partners in December 2006 (they closed in May 2007) for $3.3 billion.
The portfolio includes 237 Park, 100 Wall, and the John Hancock tower in Boston, which was sold in a foreclosure auction in April for half the $1.3 billion Broadway originally paid.
According to his online profile, still on the Broadway Partners Web site, the boyish-looking Mr. Yormak had worked at the firm since 2003, following a seven-year career as a commercial real estate lawyer, including a stint at Fried, Frank, Harris, Shriver & Jacobson LLP. Perhaps he coveted the larger pay checks of his clients.
One source we spoke to suspects that Broadway Partners, which has been keeping its debt-restructuring hush hush, will be allowed to retain a small ownership stake in many of its buildings (a bit of a face-saving measure), while its equity is hollowed out from the inside. That could not be confirmed.
Updated, 2:24 p.m. Mr. Yormak, 37, returned our call this afternoon. He said the following:
"I left because I'm just looking to pursue some opportunities in a new platform, basically," adding, "There are no particular opportunities that I'm currently focused on."
Mr. Yormak added that he retains some "residual interests" in Broadway Partners, "but they obviously will be completely passive."
drubinstein@observer.com