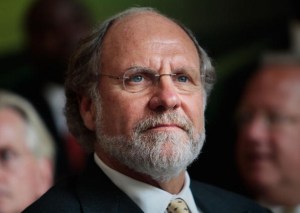 Just weeks before Election Day in 2002, with the campaign of incumbent senator Robert Torricelli overwhelmed by questions about his relationship with a shady contributor, his party gave him the hook in favor of the tried-and-true Frank Lautenberg.
So it is that within hours of last Thursday's spectacular roundup by federal agents of dozens of allegedly crooked public officials, word was circulating that Jon Corzine wasn't long for the governor's race.
There's firm precedent in Jersey Democratic politics for last-minute, election-saving switcheroos, and the motivation to pull one off now is particularly compelling. Mr. Corzine was already lagging badly in polls, and the takedown of so many of his allies (almost all of those arrested were Democrats) would incalculably strengthen his Republican challenger, Chris Christie—a man who has built his campaign on a corruption-busting record as U.S. attorney.
Mr. Corzine would soon be hustled out of the race by his own party, the thinking went, and replaced by either Cory Booker, the ambitious and media-savvy mayor of Newark, or Frank Pallone, a Shore-area congressman.
But don't hold your breath. It's been nearly a week since "Corruption Thursday," and Mr. Corzine is still in the race—and will almost certainly remain there until the bitter end.
To be sure, plenty of Democrats want Mr. Corzine out. But they lack the leverage they enjoyed with Mr. Torricelli, who knew he'd need friends in high places to carve out a lucrative post-Senate living in New Jersey.
That approach is a non-starter with the mega-rich Mr. Corzine, who, like many politicians, tends to believe he's far more popular—and far more skilled at communicating with the public—than he actually is.
The reality of his 10-year political career, launched when Henry Paulson orchestrated his ouster from Goldman Sachs in 1999, is less impressive than his win-loss record would suggest. He officially spent $63 million to win election to the U.S. Senate in 2000. His winning margin was 3 points—after national Republicans had abandoned their efforts in the state and as fellow Democrat Al Gore was routing George W. Bush by 16 points in the state.
Then, after Jim McGreevey's resignation in 2004, Mr. Corzine dipped into his pockets again, essentially purchasing the Democratic gubernatorial nomination one county machine at a time. He won in the general against a Republican opponent with communications skills so poor that his own campaign wouldn't use his image or voice in campaign ads, and as Mr. Bush and the national G.O.P. were in post-Katrina free fall.
In both 2000 and 2005, Mr. Corzine was a lousy candidate. But his money and party label, along with the national political climate, saved him. This year, with the Bush bogeyman gone and the economy in shambles, they won't.
But Mr. Corzine doesn't believe that his success in politics has come in spite of himself, and he'll soldier on, determined to prove his critics wrong.
That's bad news for Democrats, who last lost a statewide race in New Jersey back in 1997. The truth is that, barring some miraculously bad development for the Christie campaign, Mr. Corzine is doomed.
A favorite Corzine-crowd talking point at the moment involves Jim Florio, the only modern-day New Jersey governor to be defeated for reelection. Mr. Florio incited a tax rebellion in the early '90s and saw his popularity plummet below 20 percent—and yet he still came within 1 point of winning reelection in 1993. So if he could come that close, the spin goes, then Mr. Corzine will be fine.
But they forget that the Jim Florio of 1993 had recovered substantially from his nadir. A month before the election, 45 percent of voters had a favorable view of him and he led his G.O.P. foe by 12 points. Mr. Corzine, by contrast, is viewed favorably by only 34 percent of New Jerseyites and trails by 12 points in a recent poll. He is in far, far worse shape now than Mr. Florio was 16 years ago.
It looks like the New Jersey Democrats are finally going down. And Mr. Corzine is determined to lead the way.