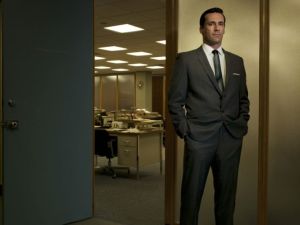 It's not exactly groundbreaking to say that the the future of Hollywood leading men goes by the name of Jon Hamm, but it's certainly a point that comes more into focus with each passing day. Earlier this week, it was announced that the handsome star would be playing opposite Ben Affleck and Rebecca Hall in the perfectly acceptable sounding The Town, about a bank robber (Mr. Affleck), the F.B.I. agent chasing him (Mr. Hamm) and the bank teller they both love (Ms. Hall). If that reads like the type of film George Clooney would have made 10 years ago, that's probably because it kinda is—hello, Out of Sight!—and considering Mr. Hamm has got 10 years on Mr. Clooney, we expect to see him get his fair share of George Clooney–type roles in the near future. However, his pending success gives us some pause: Will Mr. Hamm's fame negatively affect Mad Men?
Like The Sopranos before it, Mad Men burst onto the scene with a large cast of unknowns who seemed so tailored to their specific parts that it was hard to tell who was even acting. Much of the reason Mad Men succeeded so greatly during seasons one and two had to do with the fact that Mr. Hamm himself was as much of an enigma as Don Draper. Where did this square-jawed throwback come from? We had no preconceived notions about Mr. Hamm and, thusly, had no preconceived notions about his character. Anything that happened with Don, from cheating on his wife to impersonating a dead army buddy, seemed not just believable, but possible. But now that we've gotten to "know" Mr. Hamm in real life—insofar as an audience can know an actor by seeing them in interviews and on other projects—he couldn't be more diametrically opposed to Don. Mr. Hamm is wildly funny and lighthearted with a Midwestern charm that belies his character's sharklike impulses. It seems to reason, then, that the more exposed Mr. Hamm gets, the harder it will be to take him seriously as Sterling Cooper's ultimate badass. We can't help but wonder how we'll react when Mr. Hamm and January Jones are having one of their arguments this season. Are we going to be thinking about "Jon Hamm's John Ham" or about the situation itself?
Of course that's the catch-22 of it all: Knowing what we do about Mr. Hamm's real-life persona, his performance as Don is a full-bodied transformation, and easily one of the best on television (a medium where too often actors pitch their actual personalities just a bit broader; see: Jorge Garcia on Lost or everyone on The Office). However, maybe it would have been best to realize this about Mr. Hamm only after Mad Men had shuffled off the air. Don't get us wrong: We're looking forward to the fame that awaits our man-crush du jour; we just hope it doesn't wind up killing the mystery of Don Draper.