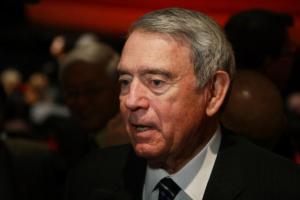 After a hiatus of several months, Dan Rather was back in court yesterday in Lower Manhattan, as part of his ongoing $70 million suit against his former employers at CBS.
To date, both sides are still awaiting a ruling from an appeals court about the future of the case. But in the meantime, Justice Ira Gammerman, of the New York Supreme Court, made a number of decisions yesterday afternoon:
(1) CBS must turn over the confidentiality and nondisclosure agreements that former CBS producer Josh Howard and former CBS News senior vice president Betsy West signed with CBS before leaving the company.
Back in April, The Observer reported on a number of emails turned up in the discovery process that shed some light on what was going on behind the scenes at CBS News in the immediate aftermath of its flawed story on Sept. 8, 2004, about President Bush's military record. In one of the emails, Mr. Howard wrote to a colleague about his belief that CBS executives were insisting "on treating this as a public relations problem. Not as a journalistic one."
The new documents will presumably reveal for the first time how much money CBS handed over to the handful of employees who left the news division in the aftermath of the flawed story—and what specific conditions they agreed to on the way out.
(2) K&L Gates, the law firm of Dick Thornburgh—the former U.S. attorney general who along with Lou Boccardi headed up the independent panel that looked into the flawed 60 Minutes story—will be compelled to turn over some 3,000 documents sought by Mr. Rather's legal team in the discovery process.
K&L Gates had previously objected, on a number of grounds including privilege, to subpoenas issued in the case for the production of these documents, which will presumably reveal even more about the inner workings of the panel.
(3) Justice Gammerman also ruled that Mr. Rather's team will be allowed to file its second-amended complaint, a decision that will essentially reinstate Mr. Rather's refinement of his allegations of fraud, which Justice Gammerman had previously tossed out back in the spring on 2008.
Mr. Gammerman declined yesterday to set a specific date for the case to go to trial. But both sides seem eager to move forward. And the justice indicated that a trial could be set as early as Nov. 1. The parties will return to Justice Gammerman's court room on Tuesday, Sept. 15.