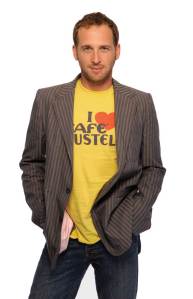 Lately, the actor Josh Lucas has been questioning his tendency to gravitate toward dark, tortured characters.
"I feel it's not indicative of my soul or who I am," the 38-year-old told me on recent sunny afternoon on a shaded bench in a tucked-away park in the East Village. He's embodied some pretty grizzly characters: There was Craig McDermott, the misogynist, money-hungry banker in American Psycho; Martin Hansen, the competitive jerk who eventually calms himself in A Beautiful Mind; Glenn Talbot, the ruthless swine of an entrepreneur who wants to harness the Hulk's powers for his own financial gain; maniacal basketball coach Don Haskins in Glory Road.
"I think it's because sometimes it can be fun," he said. "It's almost fun to make fun of those people in that way. For me, the idea of sort of bringing out elements that I see from, you know, that world, I guess because I don't have any relationship to it, really."
With Death in Love, which opens this week, Mr. Lucas sipped from the cup of a demented shlub whose special twist is an inextricable association between sex and violence: He can't get it up unless he's slapping, clawing or pulling a gal's hair. The film tells the story of two disturbed brothers (portrayed by Mr. Lucas and Lukas Haas) whose Jewish mother (Jacqueline Bisset) had a steamy affair with the doctor overseeing human experimentation at a Nazi concentration camp, and poses an intellectual question that is very personal to director Boaz Yakin:
"It's the idea of, do you hold pain in your cell structure?" Mr. Yakin explained over the phone.
An ambitious idea indeed for a filmmaker, but, as Mr. Lucas points out, Mr. Lucas was the one whose "balls are hanging out in this movie. For real."
(Well, not quite! But, along with baring the better part of his rump—big whoop—with Death in Love, Mr. Lucas joins an elite club of actors—well, legit actors—who have masturbated for the camera. His agent tells him there have been exactly four others.)
"The most remarkable thing about Josh was his willingness to try anything," said Mr. Yakin, who most notably directed the Denzel Washington vehicle Remember the Titans, produced by rainmaker Jerry Bruckheimer, who also did Glory Road with Mr. Lucas. Mr. Bruckheimer told Mr. Yakin that Mr. Lucas was looking to do some
thing "experimental and challenging": Movie history was made.
WHEN MR. LUCAS was born, he came out so fast the doctor hit his little head on the bed post and dented it. They called him Joshua Lucas Easy Dent Maurer. Mazel tov!
Joshua was born in Little Rock, Ark., on an Indian reservation where tradition had it you named your kid based on things that happen during birth. Don Maurer and wife Michele (née LeFevre) were hippies.
"Not druggie hippies," Mr. Lucas offered. "More like activists, putting people together, saying, 'Look, we've got to fight some of the establishment issues.'"
They were primarily anti-nuclear activists. The family traveled around quite a bit, stayed on a number of different communes. He doesn't totally remember them all, but there was one in Virginia, one in Maine and another one on an island, not Nova Scotia. He remembers them being places where a lot of different people were living in tents and a lot of kids were running around and playing.
"I don't get the feeling, looking back on it, and considering particularly who they are, it wasn't kind of wacky hippie living. They were concerned about the way things were building towards a military-industrial complex that was based on nuclear power and oil power, that already they were saying, 'No, this is fucked, and it's dangerous.' And … " (Here he allowed for one of the casual silences that are inherent to the easy Southern Californian–style conversation flow that his speech most closely resembles.) "I remember being afraid of this word the 'doomsday clock.' And when Reagan was put in office, I think the doomsday clock was set at 11 minutes and 45 seconds, or something like that. And I think it's moved back and forth over the years, I think after 9/11 it got the closest—like 11:59. It means that if midnight is doomsday, how close are we to doomsday, in particular to nuclear obliteration. If one bomb is sent, boom! It becomes obliteration."
When he was 11, he watched with his mother and 4-year-old sister as his father and some other men chained themselves to a train track. They called it the White Train, for some reason. It was delivering plutonium to a nuclear site in Bangor, Maine, to be put into bombs that were going onto a submarine. The U.S. military had said under no circumstances would the White Train stop, and it became a big press event because there was this group of people who were chained to the track.
"There were press helicopters above the protestors," he was saying, "and there was a group of Vietnam vets who were protesting as well and they, I guess, had started having flashbacks because of the helicopters being above them, and the whole situation, there was like major dust blowing around."
Was it cool?
"I was freaked out. I was totally freaked out. And it was kind of the thing that broke the camel's back in my family when they realized, 'We have young children now, this is too weird.' It was too dangerous. The situation felt very violent."
His baby sister panicked. His mom was pissed, too. The Maurers settled in Gig Harbor, Wash., not far from Seattle.
The public high school there had a renowned speech team, and one of the categories offered was "dramatic interpretation." Josh's father, having traded in his Che beret for O.R. scrubs, was raising a little screen junkie already: He'd play old movies on a 16-millimeter projector (there was no TV allowed in the house!), and made Easy Dent read the collected works of Pauline Kael as they screened movies together, and write his own reviews of each of them.
"It was hell," Mr. Lucas recalled. He flashed another big smile, readjusted his ball cap once more and gave his equally contented, panting companion Loki another good scratch on the nape. Dad's taskmaster-ing paid off: Josh won the state title in high-school dramatic interpretation both junior and senior year.
After graduating, he did some theater in Seattle and then moved to Los Angeles, where he quickly landed some TV gigs, including roles on Parker Lewis Can't Lose and Life Goes On. He made his big screen debut opposite Ethan Hawke in Alive.
But unlike a lot of young actors who hadn't rewritten the corpus of Pauline Kael in high school, he knew these early successes were not a sign he had the talent to act among the greats.
He always thought in terms of sports: If Sean Penn is Pete Sampras, he was not Andre Agassi.
He did a TV movie with George C. Scott. The Academy Award winner got drunk one night and told Mr. Lucas that while he had talent, he'd need acting lessons. Josh filmed a pilot for a show that was like an updated Odd Couple, and he was Felix.