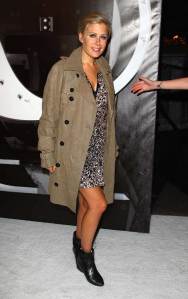 On July 15, the Deitch gallery on Grand Street will host a special fund-raiser for 36-year-old designer Tara Subkoff, who, it was recently reported, has been diagnosed with a benign brain tumor that can be fatal if not operated on within two years. Artists and galleries are donating works for auction, with the proceeds going toward covering Ms. Subkoff's medical costs.
The Art Production Fund, a nonprofit organization that presents art around New York, has been orchestrating the benefit, collecting and storing the donated works for the past week.
According to Yvonne Force Villareal, a co-founder of APF, artists Jasper Johns, Nate Lowman, Cecily Brown and John Currin have already dropped off works to be auctioned on Wednesday evening.
"It's been a really beautiful, grass-roots effort for Tara, and it just shows what a great person she is that so many artists have come out and donated things," Ms. Villareal told the Transom. "The golden rule applies: Do whatever you can to help someone and hope that everyone will do the same to help you."
Jeffrey Deitch, who produced one of Ms. Subkoff's Imitation of Christ shows—Ms. Subkoff sold the label in 2007 for a reported $2 million before it folded in 2008—is also among Ms. Subkoff's circle of friends, a group that includes director Wes Anderson (a reported former beau), Paul Sevigny (who will DJ the party) and socialite Arden Wohl.
"It is about our community coming together to support a friend who we love and admire," Mr. Deitch told the Transom. "This benefit for Tara is an example of how the New York art world is not just a business, but a real community where people support each other.