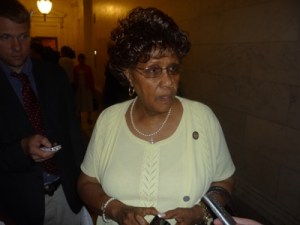 ALBANY—Democrats in the State Senate are wandering back into the chamber now to act on a series of local measures, but not school governance legislation. Yet.
Democrats have sent a memorandum of understanding saying they will act on the Assembly bill, which maintains the central thrust of mayoral control, if assurance is given that several amendments will be passed later in the Assembly and signed by the governor. Democratic senators say they want the MOU signed by representatives of Mayor Bloomberg, Speaker Sheldon Silver and David Paterson.
"I won't know until the end of the day," Senator Shirley Huntley, a Queens Democrat who has opposed the Assembly bill, said. She met this morning with Deputy Mayor Dennis Walcott, who is reviewing the changes. "Deputy Mayor Walcott said that he would discuss it with the powers that be and get back to us."
If that proposal is acceptable to the Democratic conference, there could be action on the Assembly bill as soon as today. Huntley and other members said that they were "hopeful" of this.
The amendments the Democrats are requesting—Senator Jeff Klein described them as a "wish list"—would strengthen the role of superintendents, create a parent training academy and have commissions to examine the role of arts education as well as police in the schools.
One complicating factor: according to his public schedule, Mayor Bloomberg is in Washington testifying on behalf of Sonia Sotomayor.