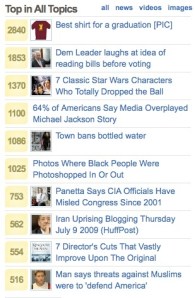 If the NYTimes.com most-emailed list was curated by Aunt Mabel, Digg.com's 'top news in all content' list is probably generated by her 20- (or 30-) something nephew: a Twittering, iPhone wielding, card-carrying member of the Wii Generation. Here's what this dude, we'll call him Kevin, and the rest of Diggnation, have been Diggin' in the past week …

Best shirt for a graduation [PIC] – "Thanks Wikipedia." For sale here.
Dem leader laughs at idea of reading bills before voting – A conservative Web site reports on a Democratic leader's response to a proposal from Let Freedom Ring, a conservative group that is passing around a pledge that asks members of Congress to read every word of a health care reform bill before they vote on it. The Sunlight Foundation has a similar project called "Read the Bill." House Majority Leader Steny Hoyer (D.-Md.) said he was laughing because "I don't know how long this bill is going to be, but it's going to be a very long bill."
7 Classic Star Wars Characters Who Totally Dropped the Ball – Humor site cracked.com reviews the terrible decision-making skills of Star Wars characters. Their No. 4 is Princess Leia, who led the Evil Empire to her rebel home base. Why "in the Dooku does she leave the Empire a trail of space breadcrumbs to the only home she has left in the galaxy?" Maybe it was those hair buns squeezing her brain!
64% of Americans Say Media Overplayed Michael Jackson Story – Only 64 percent?!
Town bans bottled water – Break out the Sigg bottles! In Australia, a small, fun-sounding town called Bundanoon banned plastic bottles to reduce carbon footprints. Comment from pathouston22: "FROM MY COLD DEAD WET HANDS."
Photos Where Black People Were Photoshopped In Or Out – Awkward displays of false "diversity" in ads, college brochures and magazine covers. Apparently TV Guide stuck Oprah's head on Ann-Margret's body back in the day.
Scientists Discover Drug that Extends Lifespan of Mammals – It's the Fountain of Youth in a pill! Even Kevin is worried about looking like he's 15 at 30 these days.
7 Director's Cuts That Vastly Improve Upon The Original – Of course, these are all dudely movies like Daredevil, Kingdom of Heaven and Payback, which weren't that hot in the first place.
Iran Uprising Blogging Thursday July 9 2009 (HuffPost) – Yes! So long, Michael Jackson. Kevin is back on the Iran election beat.
Man says threats against Muslims were to 'defend America' – A kid in Seattle whipped out a knife on a young Muslim mom and her 6-month-old baby and said, "You Muslim people scare people when you wear that clothing." Top comment from "relaxeder": "lol, you probably scare them worse when you wave knives around at them you ***** maniac."