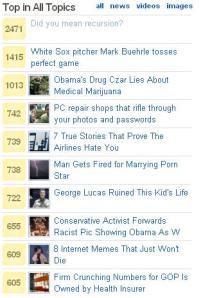 If the NYTimes.com most-emailed list was curated by Aunt Mabel, Digg.com's 'top news in all content' list is probably generated by her 20- (or 30-) something nephew: a Twittering, iPhone wielding, card-carrying member of Generation Wii. Here's what this dude (we'll call him Kevin) and the rest of Diggnation have been Diggin' in the past week:
Did you mean recursion? This is a computer programming joke that will make your brain hurt, but basically "recursion" happens when a function calls itself, directly or indirectly. So if you type in "recursion" in Google, those jokesters ask "did you mean recursion?" Still don't get it? Don't worry about it—it's all geek to us, too. Moving on …
White Sox pitcher Mark Buehrle tosses perfect game It's true! And President Obama called him up after the win against the Tampa Bay Rays to congratulate him—which is probably one of the reasons why it's at the top of the Digg meter.
Obama's Drug Czar Lies About Medical Marijuana Speaking of Mr. President! Digg user "CopsSayLegalize" changed this Fresno Bee article from "Drug czar: Feds won't support legalized pot," because Gil Kerlikowske, director of the White House's Office of National Drug Control Policy, said, "Marijuana is dangerous and has no medicinal benefit." Comment from reddfoxx1562: "CHAINS WE CAN BELIEVE IN!!!"
PC repair shops that rifle through your photos and passwords Sky News in the UK set up a sting by dropping off a computer loaded with spyware at a PC repair shop. Besides stealing Facebook and email account passwords, one technician downloaded a picture of one of the researchers in a bikini and put it into a folder titled "MAMMA JAMMAS," "urban slang for females with large breasts," according to the article. We're going to have the eagle eye on those fellas at the Genius Bar next time we drop off the laptop for repairs.
7 True Stories That Prove The Airlines Hate You From cracked.com, the Digg users' favorite humor site: "Whether it's charging $50 to check one bag or bumping paying customers at a moment's notice, it truly seems like they couldn't give half a damn about their passengers."
Man Gets Fired for Marrying Porn Star "A South Florida town manager who married a porn star last year was fired at an emergency meeting after the mayor and council members learned about it." Comment from cognitocognito: "The ironic part is that nothing would have happened if he didn't marry her but just kept her on the side, like most politicians would. Family values at work."
George Lucas Ruined This Kid's Life An Australian science fiction blog interviews Jake Lloyd, who played Anakin Skywalker in Star Wars Episode 1. He's 20 years old now, and recounted how high schoolers and college "drunk" students tortured him on campus. Poor kid. Digg user iloveveryone claimed Mr. Lloyd went to his college and was "kind of a d***." "Not Lucas's fault he blew by being a little negative nancy."
Conservative Activist Forwards Racist Pic Showing Obama As Witch Doctor From Talking Points Memo: "On Sunday night, Dr. David McKalip forwarded to fellow members of a Google listserv affiliated with the Tea Party movement the image below. Above it, he wrote: 'Funny stuff.'" Mr. McKalip later submitted an "apology" and shamed Democrats for passing the email around.
Firm Crunching Numbers for GOP Is Owned by Health Insurer An article from The Washington Post about a few number-crunchers who have shaped Obama's health care debate, such as the Lewin Group, "a consulting firm whose research has been widely cited by opponents of a public insurance option," and is also owned UnitedHealth Group, one of the nation's largest insurers. Comment from jsperraz: "This should be "above the fold" on page A1 of every newspaper in the U.S."
Man, 74, Shoots Carjacker, 18 In Houston, a 74-year-old man shoots an 18-year-old carjacker who attacked the old guy outside his home. Comment from JasonQpublic: "Senior Citizen – 1 Young punk – 0."