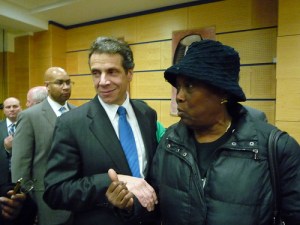 Did Andrew Cuomo's probe lead to Steve Rattner's resignation from the Obama administration?
Cuomo's fund-raising does not go unnoticed.
Mario Cuomo will speak to Democrats on Long Island on July 23.
Marcia Papas defends Kirsten Gillibrand from a Daily News editorial cartoon.
An upstate newspaper says Gillibrand needs the facetime she's getting.
Tony Avella's donations come in small increments.
Miguel Martinez is still listed as a Bill Thompson supporter.
This blogger says the next lawmakers to go down in the slush-fund scandal will probably come from Brooklyn.
School control is still in the hands of the State Senate.
Reader Frustrated in BK doesn't like that.
32BJ blogs about endorsing Michael Bloomberg.
A market research company notices Bloomberg's plan to save the media.
Bloomberg's Web site dedicated to that is not up and running just yet.
Frank Padavan trashed Democrats.
A blogger tries fixing Inez Dickens' email problem.
Courtney Gross has a map for fruit buyers.
Stephen Stirling tries getting answers about Anthony Seminerio's problems.
Here's one guy running against Tom White.
Bill de Blasio raised $221,570.
Readers probe the LGDCQ endorsement some more.
Here's Hillary Clinton's speech.
NAACP president Ben Jealous is on NY1 tonight.
Arthur Sulzberger explains himself.