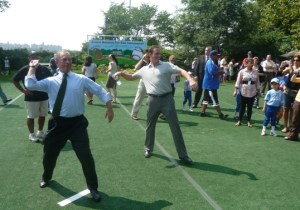 Chris Cillizza says Kirsten Gillibrand has to win a full term in office before indulging in her national ambitions.
In an interview with Gabe Pressman, Charlie Rangel said voters will determine whether Michael Bloomberg "violate[d] a trust" when he changed the term limits law.
Tom Robbins says that changing the term limits law, which Rangel was referring to, is very unpopular with voters.
The Empire Page's Peter Pollak has a review of Steve Forbes and John Prevas' study of ancient leaders.
State Senator Martin Malave Dilan will sit on the reapportionment task force.
Brian Keeler, the director of communications for Senate Democrats, was let go.
Bill Thompson calls for Joel Klein to be fired, and writes on HuffPo, "Because we found no instances of deliberate cheating, our reports were received with derision by the Department and some of the press. And yet imagine if we had been auditing the management of the New York City Housing Authority and discovered that doors to elevator shafts were routinely left open. If no one had been killed or injured, would the investigation be less worthy, the findings less appalling?"
Bill de Blasio's problem was because of Steve Richman, reports City Room.
Washington Monthly notes Bloomberg's diminished lead over Bill Thompson.
Bloomberg reacted nonchalantly to the poll results.
Bloomberg campaign ads don't mention that he's a Republican.
"Thompson has made big gains among black voters and Democrats overall."
Thompson talks about transportation at the first disability summit.
He also greeted people by the train.
North Carolina Representative Virginia Foxx uses strong language to oppose Obama's health care plan.
Governor Hugh Carey likes the idea of Lt. Gov. Dick Ravitch.
1199 is backing John Cho over the W.F.P.-supported candidate, S.J. Jung.
John Liu and David Yassky make peace over bike legislation.
Steve Pigeon is the eighth-highest-paid staffer in the Senate.
Herb London thinks Obama uses the word "crisis" too much.
If Carolyn Maloney doesn't run, New Yorkers don't lose seniority in the House, says Daniel Collins.
Davidson Goldin recalls getting mugged "in the lobby of an apartment building on 85th Street and Park Avenue."
Readers debate the impact of today's Q poll results.
And Aaron David Miller isn't sure whether to offer Hillary Clinton congratulations or condolences.