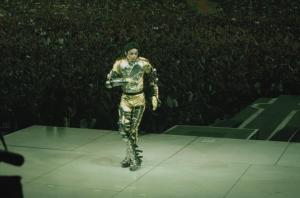 Sasha Frere-Jones, pop music critic for The New Yorker, got his first email from a publisher about doing a book on Michael Jackson half an hour after the singer died. "The mental process at first was, 'A Michael book? Hell no! That's gross! Come on!'" Mr. Frere-Jones told The Observer today. But as he went about his business over the course of the following days and weeks—writing a post on Jackson for the New Yorker Web site, going on BBC America and Ana Marie Cox's radio show to talk about him—the pitches kept coming. Meanwhile, Mr. Frere-Jones found himself thinking about Jackson and his music a lot more than he expected to.
"At first I was just doing my job," he said, referring to the blog post and the radio spots. "But the thoughts kept coming, and I kind of did a quick scan of the literature and like everyone else, started listening to Michael again. And I just got genuinely excited, and found myself thinking about it all the time."
From there it was a short moonwalk to the book proposal he and his agent, Scott Moyers of the Wylie Agency, sent out to editors and sold this week at auction to Matt Weiland at the Ecco Press. The book will be short, Mr. Frere-Jones said, and will focus on a few very specific ideas about Jackson's music and how it has influenced all of pop.
"Looking through what was there I thought, 'O.K., there are a few musical and cultural points I'd like to make—things worth driving home," he said. "And it seemed really attractive to me to do a small book that zeroed in on these ideas. It'll be for a general audience, but it's specific musical and aesthetic stuff. Kind of: what he changed and the bits and pieces that are still around because of him … the software we're still running, to use an obvious metaphor."
He went on: "I'm also making some claims about what wasn't unique about him. There are some acts—the Beatles, or Hendrix—where every recorded snippet is like, the sky falls open. And I don't think Michael is like that at all—and I think what's interesting is how carefully and scientifically he decided to do this thing that he does. … There's also a backwards look at what came before Michael that he made impossible, that he sort of eliminated."
Mr. Frere-Jones, who has never written a book before, said that since he started working this project, he has not been able to turn on the radio without thinking about how whatever he's hearing relates to something Jackson did 25 years ago.
"When will there be a time when records don't sound like 'Billie Jean'?" Mr. Frere-Jones wondered. "People are still trying to make 'Billie Jean' again, and nobody can quite come up with a record that strange."
He emphasized that he has no interest in delving into Jackson's private life, or even offering a definitive appraisal or insight into his music.
"I think I can be part of a useful conversation if I bring a couple of nice little sandwiches," he said. "If I go beyond that, if I try to turn myself into the Michael Jackson catering company, I'll fail."
Mr. Weiland, who will edit Mr. Frere-Jones, said the pairing of subject and author with this book was a no-brainer.
"It's just so obvious that he's the person to write about pop music in our time," Mr. Weiland said. "He just dances on the page. Everything he does you can feel it's a performance in the best sense."
Mr. Frere-Jones said he does not know yet when the book will be done or available. But, he said, he will not be taking time off from his New Yorker column or his blog.
"Gotta stay in the game," he said in an email. "Don't like leaving the conversation. It's too much fun."
Separately, Mr. Frere-Jones said he is also working on a collection of his music writing. So far it is not done, and has not yet been submitted to publishers.