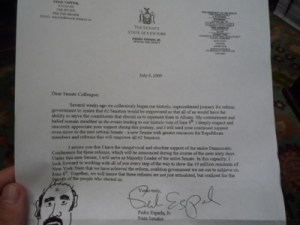 ALBANY—The four amigos walked out of the office of State Senator Pedro Espada Jr. and onto the floor of the chamber—saying little, if anything—where an extraordinary session by David Paterson has been called for 3 p.m.
Republicans were there, too, and one handed me a letter that Espada, who has apparently flipped back to the Democrats, sent to his Senate colleagues. It reads in part:
Several weeks ago we collectively began our historic, unprecedented journey for reform government to insure that 62 Senators would be empowered so that all of us would have the ability to serve the constituents that elected us to represent them in Albany. My commitment and belief remain steadfast in the events leading to our historic vote of June 8. I deeply respect and sincerely appreciate your support during this journey, and I will need your continued support for even more in the new reform Senate — a new Senate with greater resources for Republican members and reforms that will empower all 62 senators.

I assure you that I have the unequivocal and absolute support of the entire Democratic Conference for these reforms, which will be announced during the course of the next sixty days. Under this new Senate, I will serve as majority leader of the entire Senate.

</blockquote

A source familiar with the negotiations said that Espada would serve as majority leader, splitting lots of power with Senator John Sampson, a Democrat who will remain the conference leader, and will chair the Rules Committee. Senator Malcolm Smith will stay in place as president pro tempore through December, the source said. The source did not have details on the chamber's rules.

Republicans were hoping that Espada would make good on his promise.

"We're certainly going to hold out and see if we can hold onto those rules changes," Senator Joe Robach said. "But why wait six months, why not just enforce the rules that you made?"

It's still unclear exactly what will happen here on the floor. The amigos have not yet arrived.