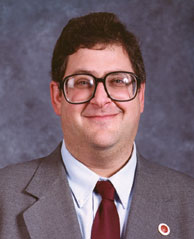 Here's another note from Councilman Lew Fidler, a Bill Thompson supporter who has made it his mission to remind everyone of Michael Bloomberg's Republican affiliation in light of a Quinnipiac poll showing the mayor's shrinking when he's identified with that party.
Bloomberg spokesman Howard Wolfson said the poll results hinge more on semantics than anything else.
To Fidler, it's deeper than that. He emails:
Howard Wolfson ought to recognize a true Republican when he sees one. Mike Bloomberg is the largest contributer to the Republican Party in our City. He bankrolled the State Senate Republicans and has gifted $50,000 a piece to each County Republican organization.

more importantly, he shares the economic views of George Herbert Walker Bush. While he has been okay with raising the sales tax and real property taxes on working people, the only tax he went against voraciously was raising the income tax on the wealthiest New Yorkers. Why? Because "they spend the money in restaurants". The last time I checked my thesaurus that was "trickle down economics". And if that is not George HW Bush, then I don't know what is.

The Bloomberg campaign can try to explain the tightening of this race as a semantic difference in a poll question. More accurately, it is people seeing the Mayor for the reality of his record and not the media hype and campaign jazz. If it walks like a duck and quacks like a duck, New Yorkers will soon enough recognize that it is in fact a duck.