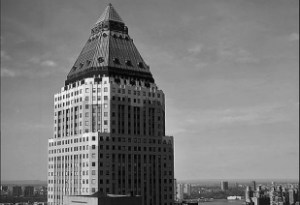 At long last, after one of the longer courtships in recent history, George Comfort & Sons has completed its purchase of Harry Macklowe's old Worldwide Plaza, at 825 Eighth Avenue.
Last month, after it was publicly revealed that George Comfort was in contract for the 47-story office complex, after George Comfort and its investment partners had made a very large (between $50 and $100 million) deposit, and after a closing date had been set for June 30, seller Deutsche Bank balked, to the astonishment of pretty much everyone involved.
Hours after the news emerged that the deal had collapsed, George Comfort & Sons sent out a press release re-declaring its interest in the 1.8 million-square-foot death star.
It looks like the suitor's persistence was rewarded. The price has not been revealed, but it should easily turn out to be one of 2009's biggest building sales, given the anemic state of Manhattan's commercial real estate market.
Eastdil Secured was Deutsche Bank's financial advisor on the transaction.
We just got this press release from George Comfort & Sons' press guy at Rubenstein:
COMFORT/RCG LONGVIEW INVESTMENT GROUP CLOSES ON PURCHASE OF WORLDWIDE PLAZA New York, NY – July 22, 2009…
The eagerly awaited sale of Worldwide Plaza, the prestigious 1.8 million square foot Manhattan office tower, has been completed. An investment group led by George Comfort & Sons, RCG Longview, The Feil Organization and DRA Advisors LLC has closed on its purchase AG of the 47-story office building at 825 Eighth Avenue in the city's resurgent Times Square district. "We are delighted to have successfully concluded this acquisition and look forward to owning and successfully operating this extraordinary real estate asset," stated Peter S. Duncan, President and CEO of George Comfort & Sons, on behalf of the building's new ownership. # # #