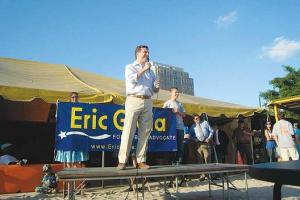 A few weeks ago, Eric Gioia starting paying to advertise his slow-starting campaign for New York City public advocate online, through Google's Ad Sense.
Type a Gioia-related search term into the box, and you'll see slogans like "Feel like City Hall doesn't listen? Vote for one advocate who does," and "From working-class Queens. For working New Yorkers," and "Talk is cheap. Results matter. A real advocate solves problems."
Really, though, his current pitch might be summed up more succinctly as follows: Just wait.
Certainly, things haven't gone precisely as planned for the ambitious, relentlessly upbeat councilman from Queens this year. The entry of the well-known former public advocate, Mark Green, into the race earlier this year wobbled whatever plans Mr. Gioia had of gradually introducing himself to voters in the five boroughs who live outside of northwest Queens. And Bill de Blasio, a councilman from Brooklyn who is, like Mr. Gioia, an above-average political operator, made off with the lion's share of early institutional endorsements, including that of the crucial Working Families Party. 
With six weeks until the primary, polling—for what it's worth—shows Mr. Gioia running last among the competing Democrats, behind Mr. Green, Mr. de Blasio and civil-liberties lawyer Normal Siegel.
Meanwhile, there has been at least one personnel change within the campaign: Michael Oliva, a consultant who specializes in field operations, has left after a three-month, $15,500 engagement, citing the campaign's unwillingness to spend more money to increase its profile.
"Being able to run your field operation for free rests upon two conditions: appeal and fame," Mr. Oliva told The Observer in an interview shortly after his departure. "Even if you're as appealing as you think you are, which you usually aren't, without the fame, you won't draw in enough people to have any real effect on your campaign."
Nothing to worry about, say Mr. Gioia's advisers.
"I'm reasonably confident that we'll start our paid ad at the right time for us and sustain it," said Gioia pollster Joel Benenson, who worked for Barack Obama's presidential campaign.
Certainly, Mr. Benenson has got some key numbers to back him up, starting with the fact that Mr. Gioia has outraised his competitors and has far more cash on hand to spend between now and primary day.
(As of the latest filing, on July 15, Mr. Gioia had raised $2,365,294 and spent only $791,516; Mr. de Blasio had raised about $1 million less than Mr. Gioia, but spent almost as much, $777,020; Mr. Green had raised $414,331 and spent $219,106; and Mr. Siegel has raised $286,069 and spent $226,292.)
And while Mr. Gioia may lack the union backing of, say, Mr. de Blasio, the Gioia campaign contends that they always counted on having to run an outsider campaign. They hope to employ an Obama-esque strategy to multiply their money advantage, attracting as many low-dollar contributors as possible (3,997 unique contributors so far, the campaign says), then converting them into active supporters. And then, with all the money saved from the bare-bones field operation, they plan to be able to run ads more frequently, and for longer, than anyone else in the race.
"We have a message that will penetrate," Mr. Beneson said, which will help the campaign "get into the runoff, and in the runoff, name ID alone does not carry the day."
He was referring, unmistakably, to Mr. Green, whom polls show to be just below the 40 percent mark needed to avoid a two-candidate runoff.
The campaign plans to begin pushing that message to a broader audience soon. According to one aide, the councilman has already filmed a television ad that could air at any moment. It would be the first major paid advertising of the race.