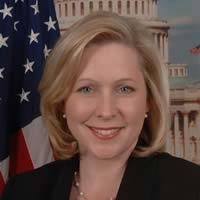 On Wednesday, July 1, a group of women calling themselves "United for New York" released  a public letter to Representative Carolyn Maloney, asking her not to challenge Senator Kirsten Gillibrand in the 2010 Democratic Primary. The letter "applauded" Maloney's work on the "issues most important to women." However, the letter said, these women "would be deeply disappointed" if she forces "voters to choose between two tremendously capable, hard-working women."
On Wednesday, July 22, a different group of women, calling themselves "New Yorkers for a Choice," responded with their own letter, addressed to Kirsten Gillibrand. This group was "disappointed" in Gillibrand supporters for "circulating a letter designed to discourage Congresswoman Carolyn Maloney from running for the U.S. Senate," they wrote. "We call on you to end this effort."
The players in this proxy exchange are not playing to type.
We have a Hillary Clinton feminist (Maloney), who has spent years working on feminist issues in Congress, arguing for the validity of a vigorous challenge to a pro-choice, female incumbent.
Meanwhile, supporters of the working-mom, post-Steinem-generation feminist (Gillibrand), are making the more traditional, second-wave feminist argument that the most important thing is to get women into office and keep them there.
One quote in the first letter from EMILY's List founder Ellen Malcolm proved to particularly provocative:  "It reminds me of Bella Abzug, Liz Holtzman, Gerry Ferraro – all these women in New York who were real leaders, political leaders, on issues that were important to women.  They ran for higher office, we lost them in the House and never got them back."
In the return letter, Liz Abzug, Bella's daughter, said: "This is the same stupid argument they used to try to stop my mother from running in the Democratic primary in 1976 against Daniel Patrick Moynihan."
In an interview, Matt Burgess, a spokesman for EMILY's List, said, "We want to be out front." He said that the organization has a "great deal of respect for Carolyn Maloney," he said, and they would "hate to lose her in the House."
The organization's goal, he said, is to "elect pro-choice women to office," and in keeping with that mission they wanted to ensure that a pro-choice woman remains in what is currently the Gillibrand seat.
"Kirsten is running an incredible race," he said.
Meanwhile, Sonia Ossorio, president of the New York City chapter of the National Organization for Women, provided the following statement about the prospective primary:
"It's an exciting time in politics. Considering the underrepresentation of women in Congress, to have two strong women contenders for a senate seat can only be good for women.
"Congresswoman Carolyn Maloney has been an undaunted champion for women. There is no question she is a committed feminist. I haven't had the opportunity to work as closely with Senator Kirsten Gillibrand, but she has taken up Hillary Clinton's work on fair pay. I do know the women of New York will expect a lot from whomever wins this race."
Different responses from two different organizations, both of which endorsed both Maloney and Gillibrand in 2008.
Now, faced with a choice between the two women, what is a feminist to do? Should feminism figure into it at all?
"I think for people like EMILY'S LIST, I think there is a debate within feminism, and I think that's why it's not clear to you that there's any–what the feminist choice is," said Professor Janet Jakobsen, director of the Barnard Center for Research on Women.
"Even within the generation that Carolyn Maloney represents, which I think is also the EMILY's List generation, there is this debate that's happening, which is: is it a woman, any woman–we can see more women–or are we going for the person who promotes feminist issues?
"And that debate within feminism is getting new–that's a longtime debate within feminism–and it's getting new variations or twists and turns to it because in some cases things have changed, and so the 'woman, any woman' argument seems to have less power to it than it did, which is why the EMILY's List thing is a little surprising. So some things have changed and some haven't."
"I think a lot of it is just politics," Jakobsen continued. "I mean, the desire to have nobody running against Gillibrand, that's just Democratic Party strategy."
Joyce Gelb, professor of political science at the City College and Graduate Center of the City College of New York, an avowed Gillibrand supporter, said the EMILY's List endorsement of her preferred candidate was mainly pragmatic.
"The point is they would endorse any pro-choice Democrat who's running," she said. "They probably chose Gillibrand because they think she has a better chance of winning."
"I think," she added, "it's not so much about who is a better feminist as it is who is the better fund-raiser."