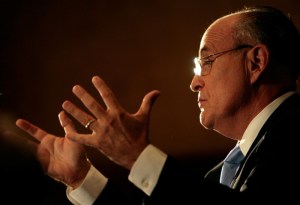 Hinting at a possible run for governor, former Mayor Rudy Giuliani said Thursday morning that the government must rein in spending in order to get out of the financial crisis, and the only people who can realistically do that are executives: mayors, governors and presidents.
"If [fiscal restraint] doesn't come from the executive, it doesn't come," said Mr. Guiliani, who argued that legislators do not get reelected for trying to cut back on spending. "I ran New York City; I was the only one who restrained spending. Not because I was a lot smarter than people—I was the only one who had motive to, as the mayor."
Speaking at a Crain's business breakfast forum at the Crowne Plaza in Times Square, he criticized George Bush for not keeping a better check on the Republican Congress' spending. (He made no mention of Iraq and Afghanistan except, "I give him great credit for keeping this country safe"). But he reserved his harshest words for Barack Obama, comparing Mr. Obama's election to Lyndon Johnson's and to Jimmy Carter's—"a mistake" that American voters should reverse—and saying that if the economy has turned around as Mr. Obama has said, then the unspent 92 percent of the stimulus package "can now be returned."
Mr. Giuliani said that the U.S. can't keep trying to spend its way out of the financial crisis when highly leveraged deals in the public and private sectors were what caused it. "We're fixing it the same way we caused it," he told the audience.
As for whether he would run for governor—a question that panelists Greg David and Melissa Russo continually pressed—Mr. Giuliani conceded that he is considering a run, but has yet to decide. "The only way I can get elected governor is the way I got elected mayor: things have to be so bad," he joked as the audience laughed. "I have to run on the theory of, 'It can't get worse.'"
But when Mr. David, Crain's longtime editor, asked him to rate New York City's state of affairs on a scale of 1 to 10—with 10 being the worst and 1 the best—Mr. Giuliani said he would give the state's economy a 9 or 10.
Then he spoke hypothetically about how he would act as governor. "I would start off with an assumption for how much we have to save," he said. "I would think the state needs three or four years of successive massive budget cuts, probably in the range of 2 or 3 percent per year."
At one point, he even suggested eliminating the sales tax, arguing that it would allow for New York's tax base to stay and grow, which would raise revenue from the income tax.
When WNBC anchor Ms. Russo asked whether Republicans in the State Senate deserve the brunt of the blame for the Albany chaos, he replied, "I think the safest thing to say is they get equal blame, they all did their part. … This is something where the governor gets the blame."
Mr. Giuliani also had high accolades for his successor, Mayor Bloomberg. "I think that he is by far the best choice that we have, and even if we had better choices, I think he would be the person to be mayor right now," he said. "New York City is such a desirable place to come; you can screw up a whole set of other policies, and you can make it work."
After the speech, audience members said they believe Mr. Giuliani is preparing a run in 2010.
"It sounds like he is getting ready to run for governor, and I think it'd be great to have him in the race," said Show and Tell Productions' Warren Levy. "If he's running just against Paterson, it's a slam dunk."
One attendee said that Mr. Giuliani should set his sights even higher. "It's my deep hope he'll get to be president of the United States," said Joel Kramer, CEO of Kramer Productions, who had been cheering and clapping especially loudly during the speech.
But not everyone was so effusive. "I think Rudy should stay out of politics," said MassMutual's Stephen Rosendale, who once served as treasurer of the New York City firefighters' union. He said that he came to the speech to "bear witness" for the 343 firefighters who died on 9/11 because, he said, they could not get a signal to find their way out of the World Trade Center.
In any case, Mr. Giuliani did have a full house of business executives applauding him as he left the podium—suggesting that he may have a reliable base of donors if he does make the plunge.
bkavoussi@observer.com