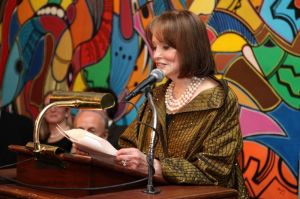 The balmy evening of Wednesday, July 15, saw an unusual crowd at the Diane von Furstenberg store on Washington Street, gathered to celebrate the release of Gloria Vanderbilt's newest literary endeavor: Obsession: An Erotic Tale. Upper East Siders who may not have ventured below 14th Street since the J.F.K. administration, together with meatpacking district regulars, hobbled out of limos and zoomed up on Vespas, respectively, to congratulate Ms. Vanderbilt. "They really re-did this area very nicely," one older woman remarked, leaning on her ivory cane.
"She is the most beautiful, and most creative, and most youthful, and most alive person," cooed Ms. Furstenberg, clad in a short teal dress, about her 85-year-old friend, who could have easily been mistaken for 60. Ms. Vanderbilt signed (free!) books for guests and posed for pictures. She wore a massive clear circular ring, a sheer yellow and white floral jacket, and gold sandals. Anderson Cooper, Ms. Vanderbilt's son, was a no-show.
Andre Leon Talley stood in front of the Transom on line for a Vanderbilt signature, wearing an 'ALT' emblazoned shirt and brown alligator skin loafers, sans socks. What is he obsessed with these days? "Gardening!" Mr. Talley told us. Gardening? We leaned closer, hoping he would provide some sort of Obsession-appropriate sexual innuendo for us. "Oh, no, I don't plant. I go to auctions at Doyle and buy gardening ornaments or furniture. That's my idea of planting, it's arranging!" Ah. Barbara Walters also braved the long line, on which one friend of Ms. Vanderbilt tutted that all the signing would make "her hand fall off in another minute!" Ms. Walters praised Ms. Vanderbilt for her "courage" in penning the tale.
Guests sipped iced tea with peach and basil and sampled mini-cheeseburgers, ratatouille and crab meat with red caviar. They talked about fashion, they talked about the weather, but they did not talk very much about sex. "I heard the book is quite racy," one woman said to her friend, putting it gently.
Ms. Furstenberg, however, was more open than many of her guests. "This is a true erotic novel and it brought me back to when I was in boarding school in England and I was hiding under my covers reading The Story of O," she revealed. For her part, Ms. Vanderbilt confessed that her agent initially "cautioned that, if published, the book would ruuuin my reputaaaation," she drawled, "I stopped myself from saying, 'Oh, goody!'"
Salman Rushide showed up late and settled into a corner to sip his drink. He giggled when the Transom asked him how hard it is to write a sex scene. "Oh, it's very difficult, I used to avoid them," he said, adding, "You always have to find an indirect strategy [to describe it]; otherwise, it's horrible." Mr. Rushdie admitted to being "kind of amazed" that Ms. Vanderbilt could stomach writing an entire book of sex scenes, and expressed his hope that "when I get around to being 85 that I'm A, able to write anything and B, that I'm still interested in sex." What does Mr. Rushdie think of following in Ms. Vanderbilt's literary footsteps in his later years? "If I'm 85, I will absolutely write an erotic novel," he promised.