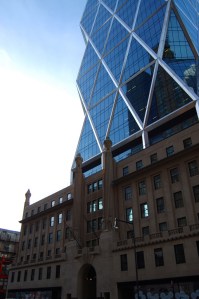 It's been more than three years since the Hearst Corporation has been looking for a tenant to fill the 14,000-plus-square-foot ground floor of its now not-so-new Lord Norman Foster–designed tower at Eighth Avenue and 57th Street.
Sources attribute much of the delay to the Hearst Corporation's style of decision-making. Any retailer must be approved not only by the firm's head of real estate, but also by its president and CFO. And then there's the fact that, for a while, Hearst apparently insisted on asking $400 a square foot for space that, despite its proximity to the Time Warner Center, exists in a retail hinterland.
But we can't put all the blame on the fumbling Hearsts. For one thing, it would be a tad disappointing were the ground floor to go to a tenant like CVS (one would-be retailer allowed to wither on the vine). For another, any retailer looking to make its own bold statement would find its voice overwhelmed by the glassine pitch of Lord Foster's angular, towering creation.
Even so, what possible complaint could Hearst have with Anthropologie, which was pretty close to a deal but is now, as a source rather obliquely put it, "in cyberspace?" What tenant could be a better fit for the ladies at Cosmo and Marie Claire?
As Hearst dithers, the economy has undermined its price point, and the very ability of tenants to open stores.
We hear that Hearst has of late become more reasonable, from a pricing perspective. Richard Hodos of CB Richard Ellis, who a while back took over the challenging leasing assignment from arch-nemesis Cushman & Wakefield, said interest in the space remains strong.
"Hearst is in negotiations with a number of quality retailers—some for all of the 57th Street space and some for just a portion—and no decision has yet been made as to which retailer(s) to proceed with," Mr. Hodos wrote in an email. "We've also had a lot of interest in the 56th Street corner, mainly from quality food uses."
drubinstein@observer.com